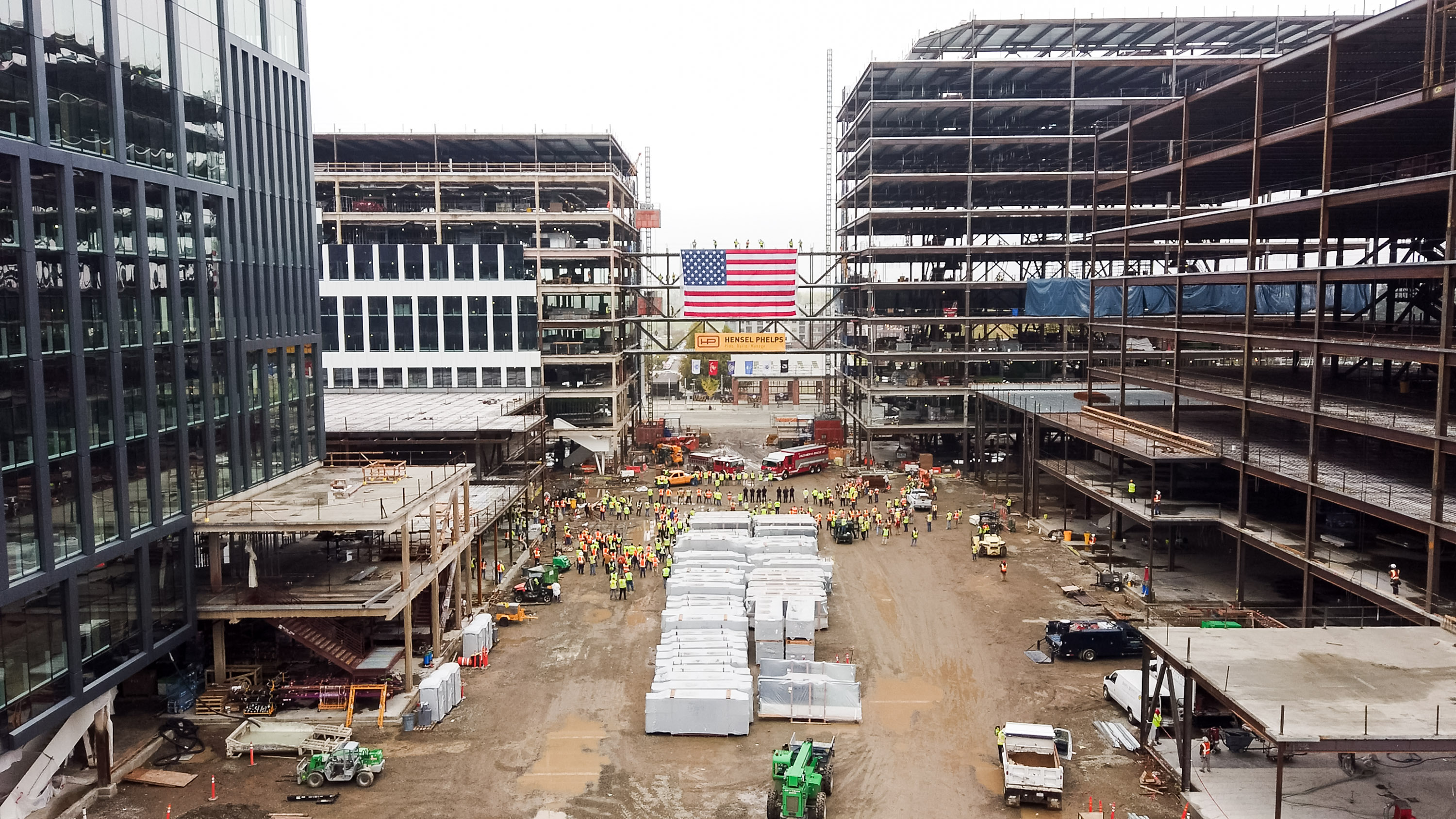 Established by Congress in 1999, May is nationally recognized as Military Appreciation Month. In honor of their service and sacrifice, Hensel Phelps would like to thank all our active, reserve, national guard and veteran service members and their families.
Even when they are no longer in the military, veterans are Always in Uniform. They bring teamwork, integrity and respect into every aspect of their lives, including on the jobsite. They truly embody Hensel Phelps' Core Values and how Building Together creates successful teams and communities.
Hensel Phelps is proud to support the ongoing commitments of our National Guard and Reserve employees. We understand their obligations for training. Similar to construction, there is always a need to refresh skills and have up-to-date safety information. Hensel Phelps supports these employees during deployments and is proud to welcome them home and work with them to transition back to the jobsite when their deployment ends.​​​​​​​
Veteran-owned trade partners also play an important role in the make-up of a successful project team. Over the past 10-years, Hensel Phelps has directed an average of 10% of their trade partner spend on veteran-owned (VOSB) and service-disabled veteran-owned (SDVOSB) small businesses. Hensel Phelps has also been recognized over the years with numerous awards for our support of Guard and Reserve employees and VOSB trade partner engagement.
Hensel Phelps is actively partnered with national programs to hire transitioning military personnel, veterans, members of the National Guard and Reserves, and military spouses. A few of the organizations Hensel Phelps is involved with are:
In addition to supporting our service members and trade partners, Hensel Phelps consistently ranks at the top for government and military construction. These projects, such as the Wyoming Military Department C-5/159th Readiness Center, Army Reserve Center and Aviation Support Facility, FORSCOM / USARC Combined Headquarters, Broken Arrow Armed Forces Reserve Center, and the Pentagon Renovation, play important role in training and strengthening our armed forces so they can focus on carrying out their jobs. They also help veterans transition to civilian life through programs such as the California Veterans Home in Fresno.
Building Design + Construction (BD+C) 2020 – #1 Top Military Government Construction Firms
ENR 2021 Rankings – #1 Green Government Office Contractor
ABC 2022 Rankings – #1 Government Contractor​​​​​​​
Join Hensel Phelps in taking an opportunity to think about what military appreciation means to you. To help facilitate action and conversation, here are some key dates throughout the month of May that will provide a chance to reflect on those who have made the ultimate sacrifice and to thank our active and veteran service members and their families:
May 6th – National Military Spouse Appreciation Day
May 8th – Victory in Europe Day
May 8th – Mother's Day
May 13th – Children of Fallen Patriots Day
May 21st – Armed Forces Day
May 30th– Memorial Day ​​​​​​​
This month we'll be highlighting the contributions of veterans, National Guard members and Reservists to the AEC industry and their communities, and what Hensel Phelps and our employees can and have done to support them, both at work and at home.
"Always in Uniform to me means that no matter where you are or what you are doing, you are representing yourself, your family, your country, the military or even the company you work for. Every action or statement made by an individual, it reflects to everything that person is associated with. You need to ensure that you take responsibility for your actions and treat all people with respect."

Will Ripka, Army, Area Superintendent