Employee Diversity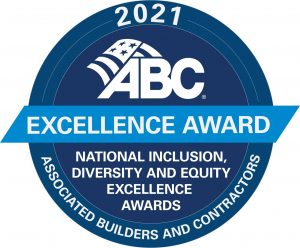 Cultivating a diverse workforce is an important part of Hensel Phelps' culture. Associated Builders and Contractors (ABC) has awarded Hensel Phelps the National Diversity Excellence Award in the General Contractor category eight times since the award's inception in 2012. This national award is judged on the diversity of the company's own workforce hiring practices, training, and retention, as well as our relationships with small disadvantaged, minority, or women-owned subcontractors and vendors.
Hensel Phelps supports the Society of Women in Engineering (SWE), the Society of Hispanic Professional Engineers (SHPE), and the National Society of Black Engineers (NSBE). Since 2005, we have helped these organizations with financial commitments, training programs, and internship opportunities. Each year, approximately 20 students from these groups are recruited, provided internships and co-ops, and given tuition assistance. Recruiting at these student-run organizations has become Hensel Phelps' primary method for finding the most qualified, diverse new hires in the industry.
Above all, promoting a diverse workplace elevates human value and productivity by respecting and utilizing the viewpoints of workers from different backgrounds. We are a committed Equal Opportunity Employer and encourage open dialogue and understanding among our employees. Our workforce diversity also allows Hensel Phelps to better represent the communities in which we live and work and to ensure that our employees are the best and brightest in the industry.
Hensel Phelps also provides ongoing support through the Women's Leadership Seminar (WLS), bringing together women from across the company to learn from one another, share challenges, and explore areas of personal and career growth. We invite you to scroll through the profiles below and meet the inspiring women of Hensel Phelps.
Efforts to recruit and retain exceptional employees are backed by our Personnel Advisory Team, a standing group comprised of diverse employees in each of our district offices across the country; WNet, a leadership network of women within the company; and VNet, comprised of military veterans. These groups support employees in each district, working to maintain internal morale and community ties through outreach, mentoring, and advancement-related efforts. Hensel Phelps also hosts an annual meeting for emerging leaders at the corporate level, reinforcing accountability, initiative, and teamwork among newer employees.