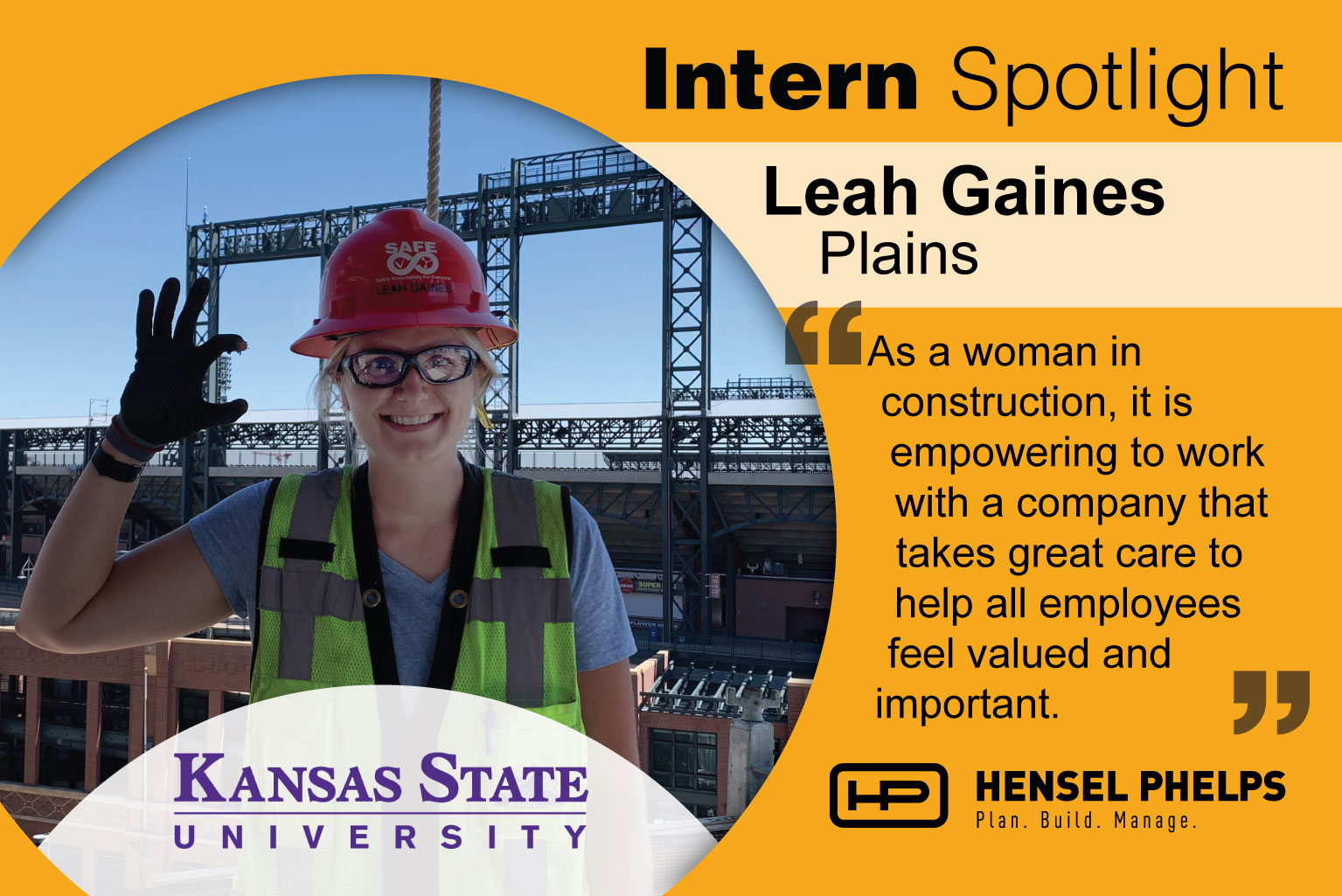 Leah Gaines is a returning intern with the Hensel Phelps Plains District and is enjoying the unique experience of working on the same project for both years. When Leah left McGregor Square in the fall of 2019, Hensel Phelps was pouring level two of the 14-story building. This summer, Leah finds herself 12 stories higher on the 14-level, coordinating room finishes for the custom units in the residential tower. She is studying Architectural Engineering at the Kansas State University, loves to say, "Go Cats!" and will graduate this coming December.
Hensel Phelps Q&A with Leah Gaines:
Name: Leah Gaines
School/Graduation Year: Kansas State University 2020
Hometown: Lamar, CO
District: Plains
Project: McGregor Square
Fun/Random Fact: Leah's claim to fame: When she was five, she was featured on the front page of the tourism brochure for Southeastern Colorado.
This is your second internship with Hensel Phelps. What was it about Hensel Phelps that made you want to continue interning here?
I met some incredible people during my first internship at Hensel Phelps. The community of hard workers who share the same sense of pride in a job well done is what brought me back for a second summer.
Why do you love construction?
I love construction because my work is tangible. I will be able to point at McGregor Square and say, "I helped build that project."
Of the five Hensel Phelps Core Values (Ownership, Integrity, Builder, Diversity and Community) – which means the most to you?
Diversity is the most important Hensel Phelps Core Value to me. As a woman in construction, it is empowering to work with a company that takes great care to help all employees feel valued and important.
What was the best advice you've received during your internship?
The best advice I received during my internship is to NOT take the shortcut. Do the hard work, put in the time and complete the job with quality.
What does "Delivering EXCELLENCE in all we do." mean to you?
Delivering EXCELLENCE means to me that we–as a company–take enormous pride in even the smallest tasks. My mentors expect that I do all things to the best of my ability and to pay attention to the details.
What's your favorite thing about working for Hensel Phelps?
My favorite thing about working for Hensel Phelps is the people. They inspire me to learn more, work harder and dream bigger.
To learn more about the Hensel Phelps Intern Program and other career paths that Hensel Phelps has to offer, visit  https://www.henselphelps.com/careers/