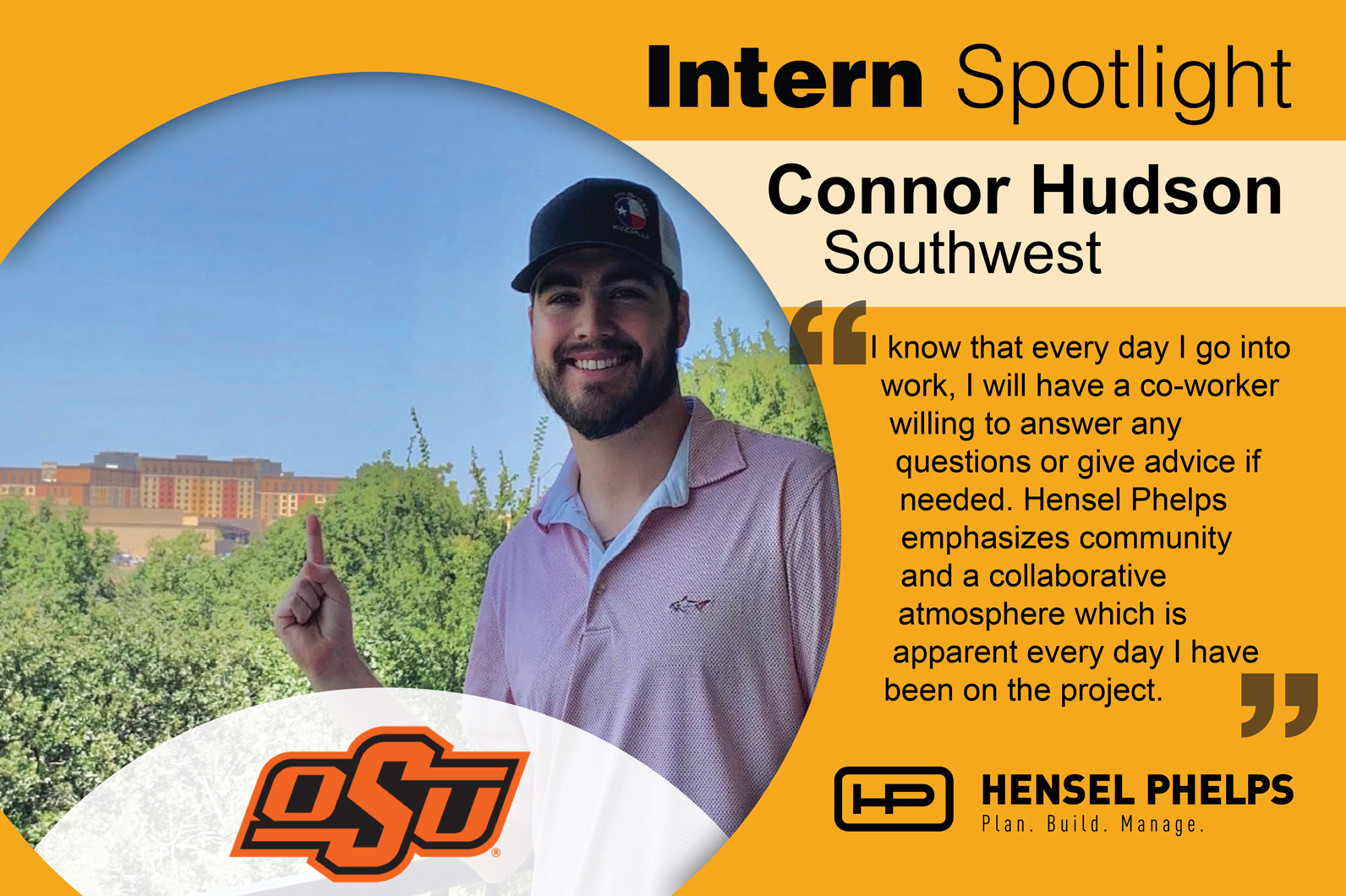 Now well into the throes of his first internship with Hensel Phelps, Connor Hudson joined the Kalahari Resort & Convention Center project in Round Rock, Texas as an office engineer this summer. As a new team member on the largest ongoing project in the Southwest District, Connor has experienced a different side of construction, learning new communications strategies and developing organizational skills to apply to his final year at Oklahoma State University.
Hensel Phelps Q&A with Connor Hudson:
Name: Connor Hudson
School/Graduation Year: Oklahoma State University, May 2021
Field of Study: Construction Engineering Technology
Hometown: Wichita Falls, Texas
District: Southwest
Project: Kalahari Resort & Convention
Fun/Random Fact: Connor enjoys cooking and barbequing.
Why do you love construction?
I love construction because of the collaborative atmosphere and being able to see a project completed from the ground up. I have been lucky enough to see a variety of jobs in my short construction career, and that has only confirmed my love for construction by being able to see something transform into the final product.
What are your goals for this internship and/or career?
My goal for this internship is to gain more knowledge and experience in the construction industry. Something new and different is happening every single day on the job site and you may not always have the answer. I am eager to learn new strategies and knowledge from co-workers that have had real experience because they may have faced a similar situation at some point in their careers.
What is the number one thing you have learned during your internship that you weren't familiar with before?
The number one thing I have learned throughout my internship is the coordination between Hensel Phelps and other trade-partners. This being my first time experiencing the office side of construction I have seen first-hand the many moving parts of communicating with the owner and subcontractors in order to have an efficient and quality project.
What does "Delivering EXCELLENCE in all we do." mean to you?
To me, "Delivering EXCELLENCE in all we do.", means that Hensel Phelps strives to do everything to the best of our ability no matter the scenario. Additionally, Hensel Phelps not only ensures the highest quality results but does so safely and efficiently.
What's your favorite thing about working for Hensel Phelps?
My favorite thing about working for Hensel Phelps is the culture. I know that everyday I go into work; I will have a co-worker willing to answer any questions or give advice if needed. Hensel Phelps emphasizes community and a collaborative atmosphere which is apparent every day I have been on the project.
To learn more about the Hensel Phelps Intern Program and other career paths that Hensel Phelps has to offer, visit  https://www.henselphelps.com/careers/