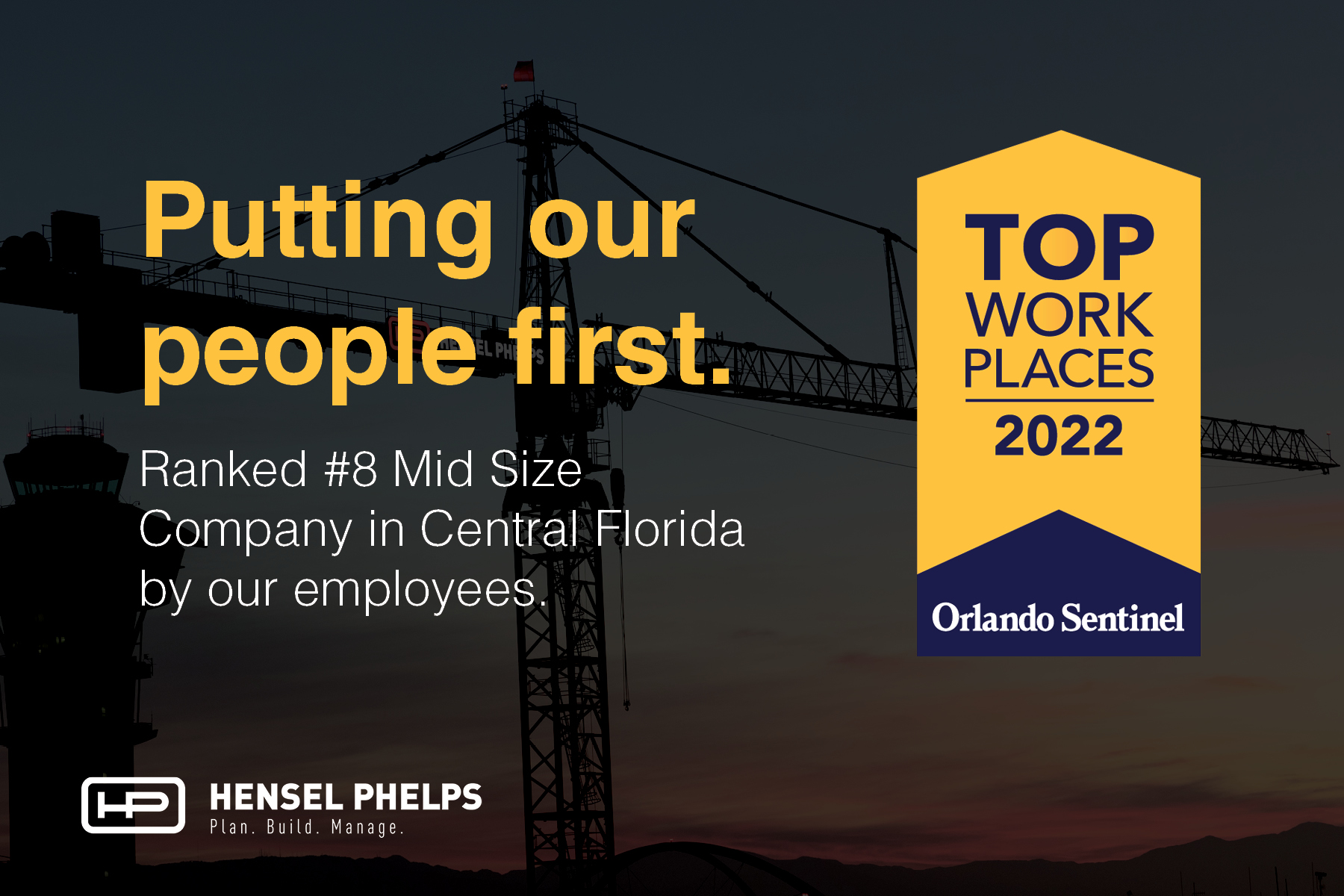 Hensel Phelps has ranked #8 Top Workplace in Central Florida in the Mid-Size Company category by Orlando Top Workplaces. The list is based solely on employee feedback gathered through a third-party survey administered by employee engagement technology partner Energage LLC. The anonymous survey uniquely measures 15 culture drivers that are critical to the success of any organization. Some of these drivers include alignment, execution and connection.
"It's an honor to be named a Top Workplace for the seventh year in a row. Hensel Phelps is happy to call Orlando home," says Kirk Hazen, Vice President and District Manager of the Southeast District.
As an employee-owned company, Hensel Phelps is a collaborative environment where employees are empowered to take leadership roles through their entire careers. Hensel Phelps offer extensive training, great benefits, the opportunity to build wealth and a tight-knit culture and community.
When someone joins Hensel Phelps, they become a part of the Hensel Phelps family, embracing a team atmosphere where everyone takes pride in the product they produce. To maintain a strong culture, each project participates in quarterly team building activities that can include fishing trips, a day at a theme park, paintballing, go-cart races and concerts, with most of the events taking place during work hours. Additionally, the project teams host cookouts and BBQs to celebrate team successes. Employees are also encouraged to create individualized Quality of Life (QOL) programs that allow them to create a positive work-life balance.
Learn more about the Southeast District as well as open career opportunities with Hensel Phelps.