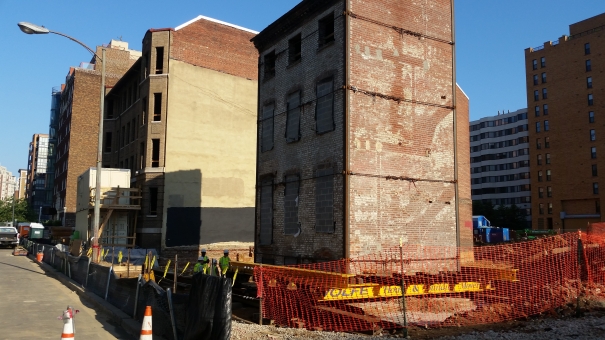 After months of detailed planning, the Hensel Phelps project team at the Columbia Place/Square 369 project site, located adjacent to the Washington Convention Center in the heart of the District of Columbia, geared up for an exciting start to the day — the relocation of the historic structure at 911 L Street!
In the days before, the Hensel Phelps team, with the help of Wolfe House and Building Movers, prepared this historic three-story, 160-year-old Civil War-era townhome for relocation to its new site, flush with the historic Lurgan Building.
In order to carry out the operation, the team first abated and demolished all interior spaces and removed the rear addition of the building that was not part of the original fabric. The remaining structure was braced with steel beams and separated from the original foundation. The building was then lowered three feet and slid hydraulically along steel beams to its new location.
At 8 a.m., generators roared to life and the hour-long operation began. Without a hitch, the building came to rest in its intended location, where it will be incorporated into the new residential building.
The project, which is being developed by Square 369 Hotel, LLC, is a new 12-story mixed-use development, consisting of two Marriott hotels — Courtyard by Marriott and Residence Inn. The hotel will consist of 360,400 GSF and 504 guest rooms (144 rooms at the Residence Inn and 360 rooms at the Courtyard by Marriott). Additionally, the project includes a new residential building consisting of 222,500 GSF with 203 units.
In addition to the historic preservation of the 911 L Street Building, the project also includes the adaptive reuse of seven other historic buildings to be incorporated into the residential program.