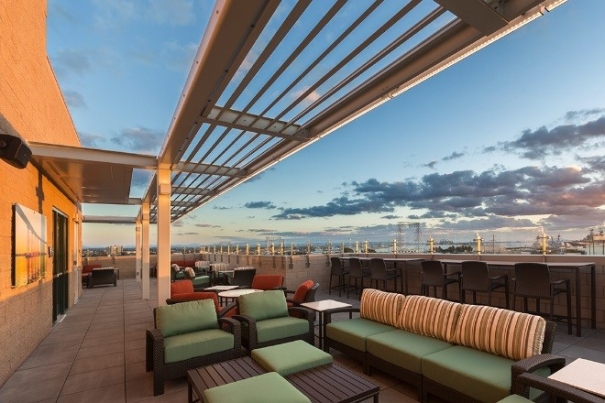 Over the past 5 years Hensel Phelps has completed nearly 1.2 million square feet on 8 projects for NAVFAC Southwest with a total value exceeding $550 million On each of these projects our personnel has striven to provide the highest quality of construction for our men and women in uniform. A major goal for Hensel Phelps is to also provide the most energy efficient and lowest life cycle cost structures for the federal government.
Through innovation and collaboration Hensel Phelps teams have designed and built some of the most efficient structures for the Navy One of Hensel Phelps most recently completed projects is the new Homeport Ashore Bachelor Enlisted Quarters project at Naval Base San Diego. This new BEQ will be the primary residence for 644 sailors while their ship is docked in San Diego at its homeport. This 161,000 GSF design-build project was recently notified by the USGBC that the team outperformed their original goal of delivering a LEED Gold building and achieved LEED Platinum certification. Sustainable highlights on this project include:
Thermal Domestic Hot Water System
High Efficiency Mechanical Systems
Storm water bio-swale capable of retaining and treating 90% of site run-off
Locally harvested materials
19 million pounds of construction debris diverted from local landfills and recycled
Hensel Phelps thanks the entire design-build team for their partnership in achieving such a great accomplishment!