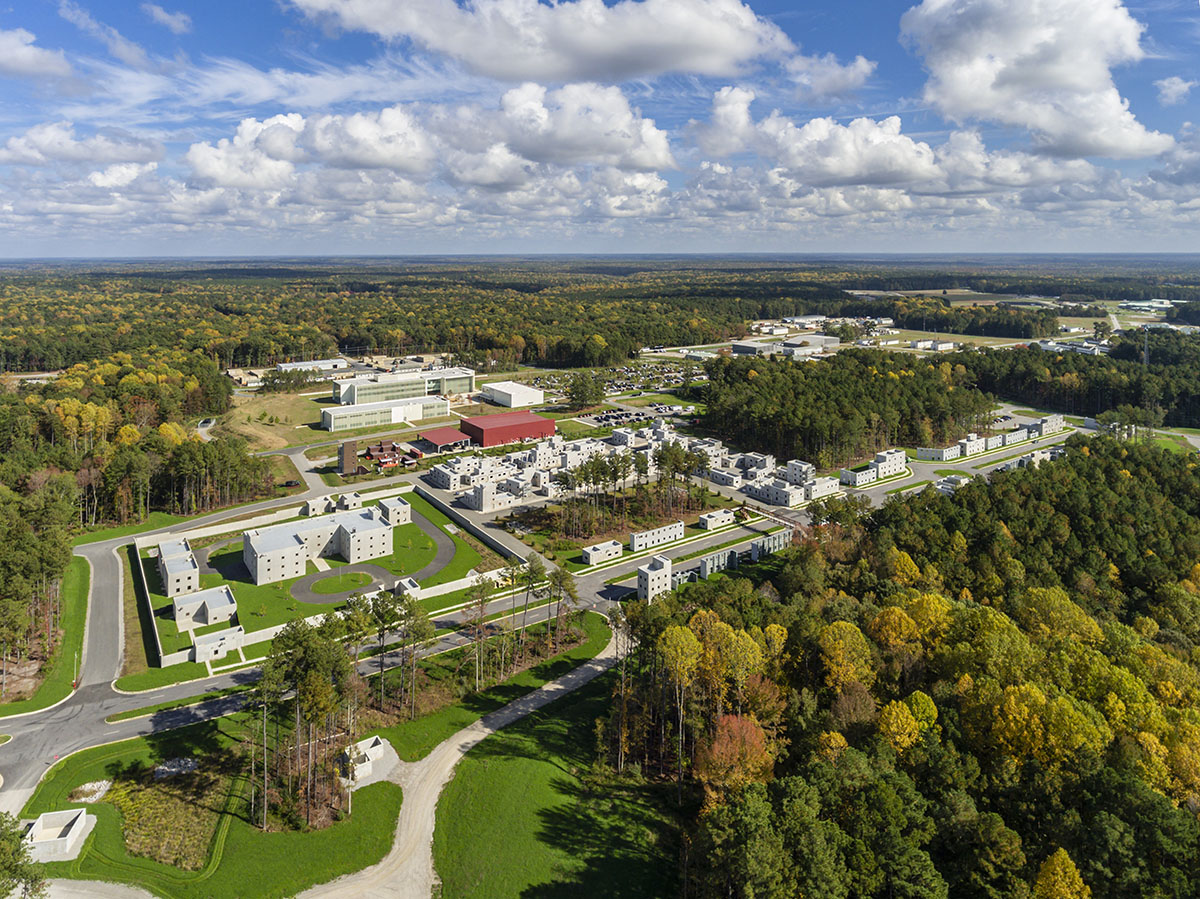 The Foreign Affairs Security Training Center (FASTC) program, completed in 2020, swept in the 2020 – 2021 award season, bringing home 11 industry awards. Through close collaboration with project owner the General Services Administration Region 3, project architect Kieran Timberlake and Construction Manager AECOM, the FASTC project team has been recognized for their contributions to the architecture, engineering and construction fields through the following awards:
2020 Federal Executive Board Philadelphia Chapter, Excellence in Government Awards Program: Finalist for Collaborating Champions category
2020 Engineering News Record Mid-Atlantic Regional Best Project Awards: Regional Best Government and Public Building Category and Finalist for Best Regional Project of the Year
2020 Associated General Contractors of DC: Winner in the Public/Government/Institutional Category
2020 Associated Builders and Contractors Virginia Chapter: Winner in the Federal over $5M category
2020 American Institute of Architects Virginia Chapter Excellence in Architecture: Award of Honor
2021 American Council of Engineering Companies Metropolitan Washington Chapter, Engineering Excellence Award Program: Merit Winner in the Special Projects category
2021 American Council of Engineering Companies Metropolitan Washington Chapter, Engineering Excellence Award Program: Merit Winner in the Building/Technology Systems category
2021 Associated General Contractors of America Build America Award: Winner in the Construction – Federal Heavy, New category
2021 GSA Administrator Award Excellence in Performance Awards: Winner in the Team and Individual categories
2021 Project Management Institute Project of the Year Award
The U.S. Department of State established FASTC at Fort Pickett and on adjacent property near Blackstone, Virginia. FASTC provides hard-skills security training to State Department personnel and the foreign affairs community. The U.S. Department of State, working with the U.S. General Services Administration (GSA), worked extensively to conduct environmental studies at Fort Pickett, which showed that the site was suitable for FASTC. In 2015, GSA purchased property and secured land use agreements for approximately 1,400 acres of publicly held land.
This facility is dedicated to providing consolidated hard skills security and lifesaving training to the foreign affairs community. This training develops the practical skills necessary to operate in today's overseas environment. Hard skills training allows the foreign affairs community to learn how to detect surveillance, provide emergency medical care, increase identification skills to recognize improvised explosive devices (IED), participate in firearms familiarization and perform defensive/counterterrorist driving maneuvers. Such training improves security and life safety for the protection of U.S. personnel operating abroad. The FASTC facility trains 8,000 – 10,000 students annually.
Hensel Phelps completed Contract 1 of the FASTC program in February 2017. The scope of work included an explosives demonstration range, live-fire shoot house, mock outdoor urban training (MOUT) area, rappel tower, tactical maze and smoke house. Included with each venue are associated site-work and infrastructure necessary for general accessibility to the site parcels and integration of utilities and infrastructure shared in common with off-site venues and other facilities.
Contract 3 was completed in January 2020 and consisted of a fitness center, warehouse space, multiple drive tracks, multiple classrooms, explosive training areas, firing ranges and an armory.