Project Highlights From Federal Courthouses to Higher Education and Transportation in the Public Sector
Public projects of all sizes are reshaping our cities and landscapes. The public sector is embracing a range of project delivery methods that are leaner, more cost effective and more efficient. Public partnerships are opening different avenues for the historically tricky area of financing a public project. These trends are helping to ensure the best possible use of public dollars for key infrastructure.
Many communities are outgrowing their social infrastructure or simply need to replace or refurbish facilities that have reached the end of their projected lifespan. An example of this type of project is the Fred D. Thompson US Courthouse and Federal Building, currently under construction in Nashville, Tennessee. The US General Services Administration broke ground on the new courthouse in July of 2018. Slated for completion in 2021, the new courthouse will feature eight courtrooms and 11 judges' chambers in addition to workspaces and offices to house different departments.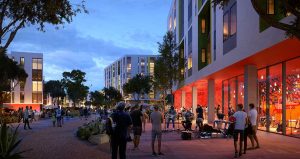 Many public higher education institutions are building to meet the needs of today's students. UC San Diego added 740,000 SF of graduate and professional student housing with the Mesa Nueva complex. Designed to connect the complex to the larger landscape and community, Mesa Nueva provides affordable on-campus housing and is certified LEED Gold.
In Martinez, California, the design-build Contra Costa County Administration Building will be a more efficient and community-friendly space. The four-story, 71,000 SF building will house a variety of county departments and the Board of Supervisors meeting chamber. A few miles down the road, the two-story County Emergency Operations Center (EOC) will include a training lecture hall and will consolidate and replace outdated facilities for a state-of-the-art response center.
Infrastructure and transportation projects represent another key foundational aspect of public projects. The Purple Line is 16-mile light rail line in Maryland that will connect communities to the Metrorail, AMTRAK and local bus services. To deliver this project, Maryland Department of Transportation (MDOT) formed a public-private partnership (P3) with a consortium of private sector engineering and finance firms.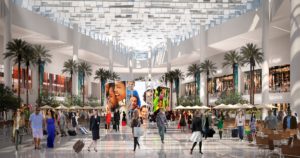 At the Orlando International Airport, a new domestic and international airport terminal will add 16 airline gates with flexibility to accommodate a variety of plane sizes. As the largest current construction project in Central Florida, this new terminal will reshape the landscape of MCO.
Public partnerships can also result in innovative new developments. In San Diego, partnerships with the Port of San Diego has led to the development and construction of multiple projects. The award-winning Hilton San Diego Bayfront Hotel was both developed and constructed by Hensel Phelps. Additionally, two projects, developed in partnership with the Port of San Diego, have created the newest landmarks in San Diego — Lane Field North and South hotels. These two major hotel projects are in the North Embarcadero area, known as the BRIC and San Diego's newest lifestyle destination. Lane Field South, a 400-room, full-service Intercontinental-branded and managed hotel, was completed in 2018 and includes a two-acre park and a new pedestrian corridor.
These projects represent a sampling of current trends and projects in the public sector. Projects that represent the spectrum of delivery types from design-build to public-private partnership to construction manager at risk. Regardless of the delivery method, these landmark facilities are key to helping our country grow, thrive and run smoothly.