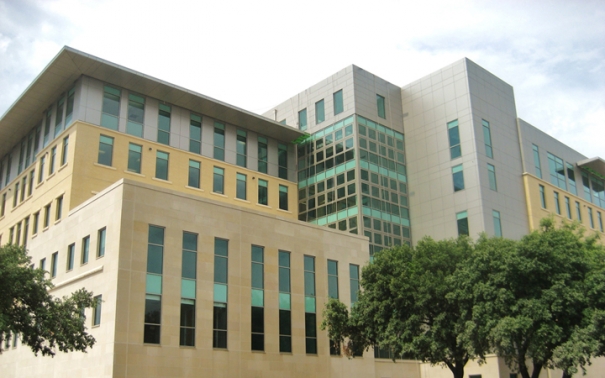 The new Hensel Phelps San Antonio Public Safety Headquarters has been recognized by the San Antonio Business Journal with the "Best Municipal Project" award in their annual "Best in Commercial Real Estate" publication. Hensel Phelps teamed with Fentress Architects and Lopez Salas Architects on the 240,000SF design-build project, which co-locates the City of San Antonio police and fire departments within one facility designed to foster team interaction and collaboration.
The Mission Critical six-story, blast-resistant Headquarters centralizes and improve life safety services by integrating new data and security system technologies and providing much-needed space for 386 police staff and 96 fire department staff. Built of cast-in-place concrete, the building features a glass atrium on the top three floors.  A steel and glass lobby connects the first two floors with the adjacent parking garage, which includes built-out office space and infrastructure for a future solar array.
City of San Antonio Capital Improvement Management Services (CIMS) Director Mike Frisbie gave the following remarks on the project's success: "Thanks to a tremendous public/private sector partnership, this LEED Silver, design-build project is being completed with great quality, under budget, and on schedule." In keeping with City goals, the project demonstrates a strong ongoing commitment to high local and small business participation.