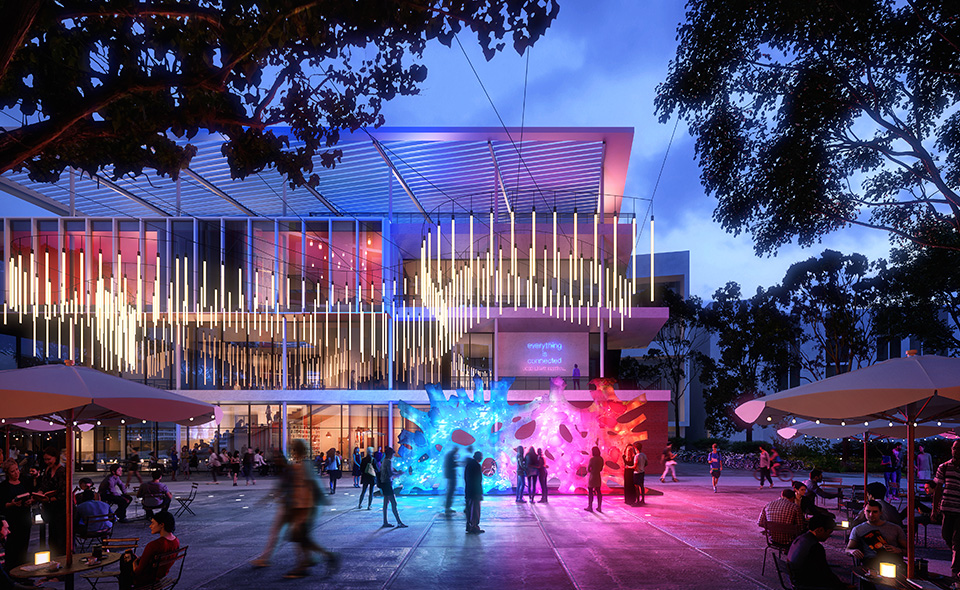 New Graduate Student Housing Will Open in 2020 to Serve Expanding On-Campus Student Housing
The University of California, San Diego (UC San Diego) awarded the third phase of their East Campus student housing program to the design-build team of Hensel Phelps and Mithun. The UC San Diego Nuevo East project is a $211 million, 712,000-SF Graduate Student Housing project consisting of over 1,374 beds and related amenity spaces in six buildings.
The design-build collaboration between Hensel Phelps and Mithun builds on the team's collaboration with the adjacent Mesa Nueva Graduate and Professional Student Housing project and the Nuevo West Graduate Student Housing Project to create a new graduate community at UC San Diego. The team's successful collaboration also includes the recently awarded Middle Earth Student Housing Expansion and the recently completed DBIA National Project of the Year, Mesa Court Towers for the University of California, Irvine (UCI). The design-build team is in the process of turning over Mesa Nueva (Phase 1) and beginning construction for Nuevo West (Phase 2) and has already begun the design for Nuevo East (Phase 3) at UC San Diego.
"Having the opportunity to design and build three phases for UC San Diego is truly an unprecedented opportunity, and we look forward to providing a project that enhances the experience of the residents and the surrounding community," said Hensel Phelps senior estimator Michael McKenna.
The graduate student housing at UC San Diego creates a new campus heart on the East Mesa that is a keystone in the future campus master plan for graduate student housing. All three phases will be completed by the Hensel Phelps | Mithun design-build team, creating a uniform cohesiveness across the entire graduate student housing neighborhood, which is often referred to as "One Mesa."
"This is a truly unique opportunity to unify the East Campus community and to create a new vibrant gateway at the campus edge that is connected to new transit resources that are evolving in the region. This project has the ability to serve the graduate students and staff and to create a presence and connection between the university and its surroundings," according to Brendan Connolly, design partner at Mithun.
Nuevo East features five residential buildings ranging from five to 12 stories. Residential spaces are anchored by the Exchange, a dynamic student resource center with multi-purpose amenity and gathering spaces, university offices and support programs to promote health and wellness. This facility activates the campus edge and defines a welcoming gateway and public plaza for special events like farmers markets, concerts, graduate student lectures and art installations.
UC San Diego's new student housing at Nuevo East will feature:
LEED Gold target
Eight townhome units
Weaving building façade which creates micro-turbulence to aid natural cooling
Rooftop deck event space at 12-story high-rise
Cast-in-place concrete structure which creates thermal mass and provides passive cooling
"The design-build process enables our team to focus on adding value for our clients, such as providing additional units, enhancing shared community and outdoor spaces, and improving building envelope performance for increased energy savings," said Lynn McBride, Mithun project manager for UCSD Mesa Nueva, Nuevo West and Nuevo East.
The strategic site planning and building massing of this proposal work in harmony with recent phases of development to create a unified and fully interconnected East Mesa. Each node within this "One Mesa" is unique in character and focus, but all share the common DNA of an integrated landscape, creating a powerful campus experience for UC San Diego. This design amplifies Nuevo East. It is bold and inviting with a unique architectural character and presence, while at the same time sharing the DNA of the larger whole, and is connected to the other villages through multiple braided pathways that work in perfect coordination with adjacent neighborhood plans.
"Working together as an integrated team of architects, landscape architects and interior designers, combined with early engagement of the contractor, Nuevo East's thoughtfully connected indoor and outdoor spaces enhance social interaction and academic success," said Dorothy Faris, landscape architect at Mithun.
The Nuevo East project site will be adjacent to the Mesa Nueva (Phase 1) project and visible from the corner of Miramar Road and Regents Road.