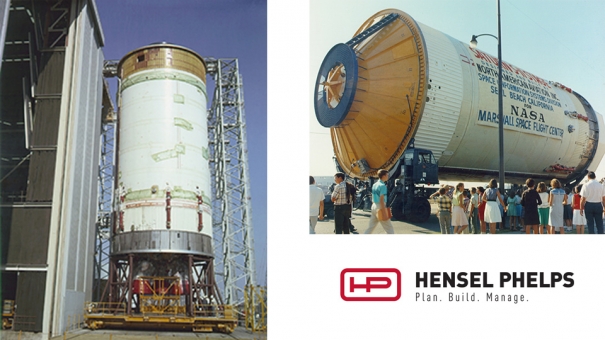 Hensel Phelps recently made a mark in history by demolishing a former NASA building located at Naval Weapons Station Seal Beach. This 115-foot tall, 130,000 SF building was originally built in the early 1960s and was used to build the second stage of the Saturn V rocket, which propelled Neil Armstrong and company to the moon in 1969. This stage carried the biggest-ever rocket almost into orbit from an altitude of 42 miles, after the rocket's first stage used up all its fuel and fell away. Some fun second stage facts are as follows:
Diameter: 33 feet
Weight: 1,037,000 pounds (loaded)
Height: 81.7 feet
Max Velocity: 15,300 mph
Thirteen Saturn Vs were launched between 1967 and 1973. Now, 54 years later, this building is now the site of twisted steel and metal, multiple scrap piles and construction debris. This is one of two buildings scheduled to be demolished. Thanks to the entire P229 team who made this possible.