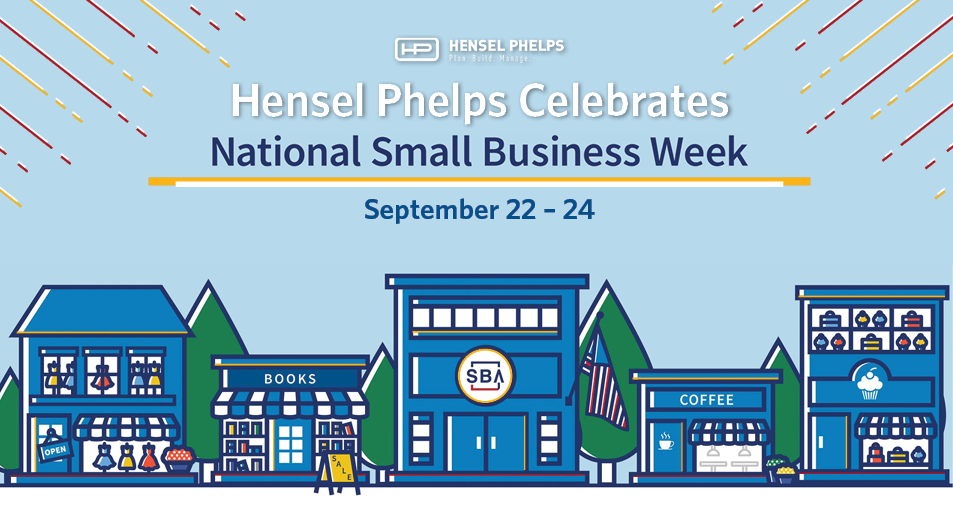 Hensel Phelps is committed to building lasting relationships with small business trade partners across the country and is proud to celebrate National Small Business Week.
As a leading general contractor in the commercial construction industry, it is important to set an example. Our professionals regularly reach out to small firms across the country, working hard to customize an overall plan for each construction project that enlists emerging businesses in our preconstruction, purchasing and construction efforts. Hensel Phelps' goal is to interact not only with local small business communities, but also with elected officials and surrounding neighborhoods to maximize opportunities for partnership.
Hensel Phelps partners with small, minority/disadvantaged, women, HubZone, veteran, service-disabled veteran, LGBTQ and Source America-owned businesses to the highest possible degree on all projects. Our employees are held accountable for this cultural focus, and as a result of these efforts, have established numerous long-term relationships with these partners and have exceeded federal goals for the past five consecutive years.
Working in conjunction with organizations such as the Small Business Association (SBA), Associated Building Contractors of America (ABC), Small Business Development Centers (SBDC), Defense Contract Management Agency (DCMA), Associated General Contractors of America (AGC) and Procurement Technical Assistance Program (PTAP), Hensel Phelps has continuously connected small businesses with numerous valuable resources. Whether by providing mentoring opportunities, training or bonding assistance, our staff works to help these partners successfully manage and grow their organizations through our Small Business Programs.
"As a large general contractor, Hensel Phelps understands the impact small businesses have on the construction industry and our local economies. We're committed to enhancing these companies and achieving the highest possible level of diverse business inclusion on each of our projects."

– Mike Choutka, President & Chief Executive Officer
This year's National Small Business Week honors small businesses for their achievements and dedication to their communities. The week will focus on providing innovative practices for entrepreneurs, as our nation's small businesses look to pivot, recover and work towards a stronger economy. To support these efforts, Hensel Phelps will be highlighting ways we have helped our small businesses respond to the global pandemic, including virtual webinars, outreach events and additional ways to get involved. In addition, Hensel Phelps will celebrate communities and projects that have achieved outstanding small business results.
Stay tuned all week for more exciting small business news, resources, celebrations and opportunities.
To learn more about Hensel Phelps' growing small business programs and our continued commitment to small businesses, please visit: https://www.henselphelps.com/subcontractor-outreach/