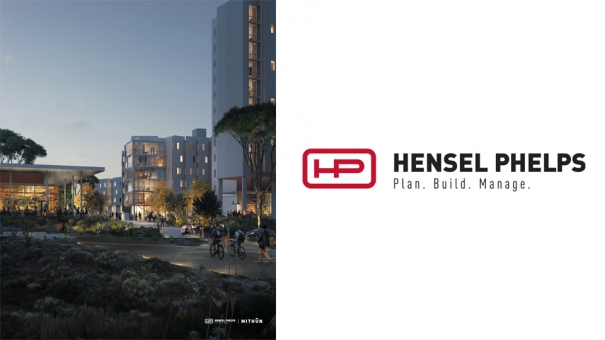 The University of California, San Diego (UC San Diego) awarded the second phase of their East Campus student housing program to the design-build team of Hensel Phelps | Mithun in late November. The UC San Diego Nuevo West project is a 442,000 GSF Graduate Student Housing project consisting of over 880 beds and related amenity spaces in two main buildings.
"We're very pleased to have selected the team of Hensel Phelps and Mithun as our partners to deliver the next housing project here at UC San Diego," said Mark Cunningham, assistant vice chancellor, Housing, Dining and Hospitality Services at University of California, San Diego. "I believe this team will provide a true human-focused design delivered through cutting-edge construction practices which will without doubt transform the on-campus living experience for the students who will reside there for decades to come."
The design-build collaboration between Hensel Phelps and Mithun builds on the team's collaboration with the adjacent Mesa Nueva Graduate and Professional Student Housing project to create a new graduate research community. The team's collaborations also include the recently completed Mesa Court Towers for the University of California, Irvine (UCI).
"Our team has accrued an invaluable body of knowledge through our shared collaborations – bringing a tested and successful track record of collaboration," adds Bill LaPatra, a partner at Mithun.
The graduate student housing at Nuevo West creates a new campus heart on the East Mesa that is a keystone in the future campus master plan for graduate student housing. Nuevo West incorporates a rich composition of social and academic amenity spaces that serve this growing East Campus population. This design accommodates temporary housing and community program space for medical center patients and families undergoing treatments at UC San Diego. This symbiotic program relationship is reflected in a facility that provides shared community amenities as well as buffered spaces specific to each program use. The grand opening of the new student housing at Nuevo West is anticipated in 2019.
UC San Diego's new student housing at Nuevo West will consist of:
880+ beds with 80 beds for families and patients undergoing medical treatments at the adjacent UCSD medical center
1,350 parking stalls
Ample outdoor gathering spaces
Market, café, and numerous social amenity spaces
LEED Gold target building and site design
The Nuevo West project will be directly adjacent to the Phase 1 project, Mesa Nueva Graduate Student Housing, which is currently in construction with a completion in 2017.
"Nuevo West plays a crucial role as a gateway from the main campus to the East Campus. Currently, a canyon separates East Campus from West Campus. A planned pedestrian and bicycle bridge will terminate in a central 'town square' space – creating a powerful arrival experience that welcomes residents and visitors to this new cohesive campus community," explains Brendan Connolly, a partner at Mithun.
Nuevo West is designed to meet LEED Gold certification and utilizes passive solar and thermal stack effect principles to achieve high-performance building energy and comfort goals. A cast-in-place concrete structural frame creates thermal mass that provides passive cooling. A transpired collector system will enhance ventilation by heating air contained in an internal "solar chimney" that creates a stack effect to pull in cool air through openings at the end of corridors and common spaces. The project's design directly responds to its function with façades that direct the westerly prevailing winds to cool the building with natural ventilation. Building orientation also minimizes heat gain and glare. Solar thermal collectors located on the building roof provide solar heating for domestic hot water. The project is planned for future photovoltaic panels on the parking garage for solar electricity. Three generous outdoor rooms are landscaped with native and drought-resistant plantings that are irrigated with reclaimed water.
"We take pride in being part of the San Diego and La Jolla communities, and we love working on the UC San Diego campus. The people representing Housing, Dining and Hospitality and Facilities Design and Construction are truly talented individuals and are a pleasure to have as clients. I feel very fortunate to be able to extend that working relationship for another few years," said Hensel Phelps operations manager Nick Trammer.