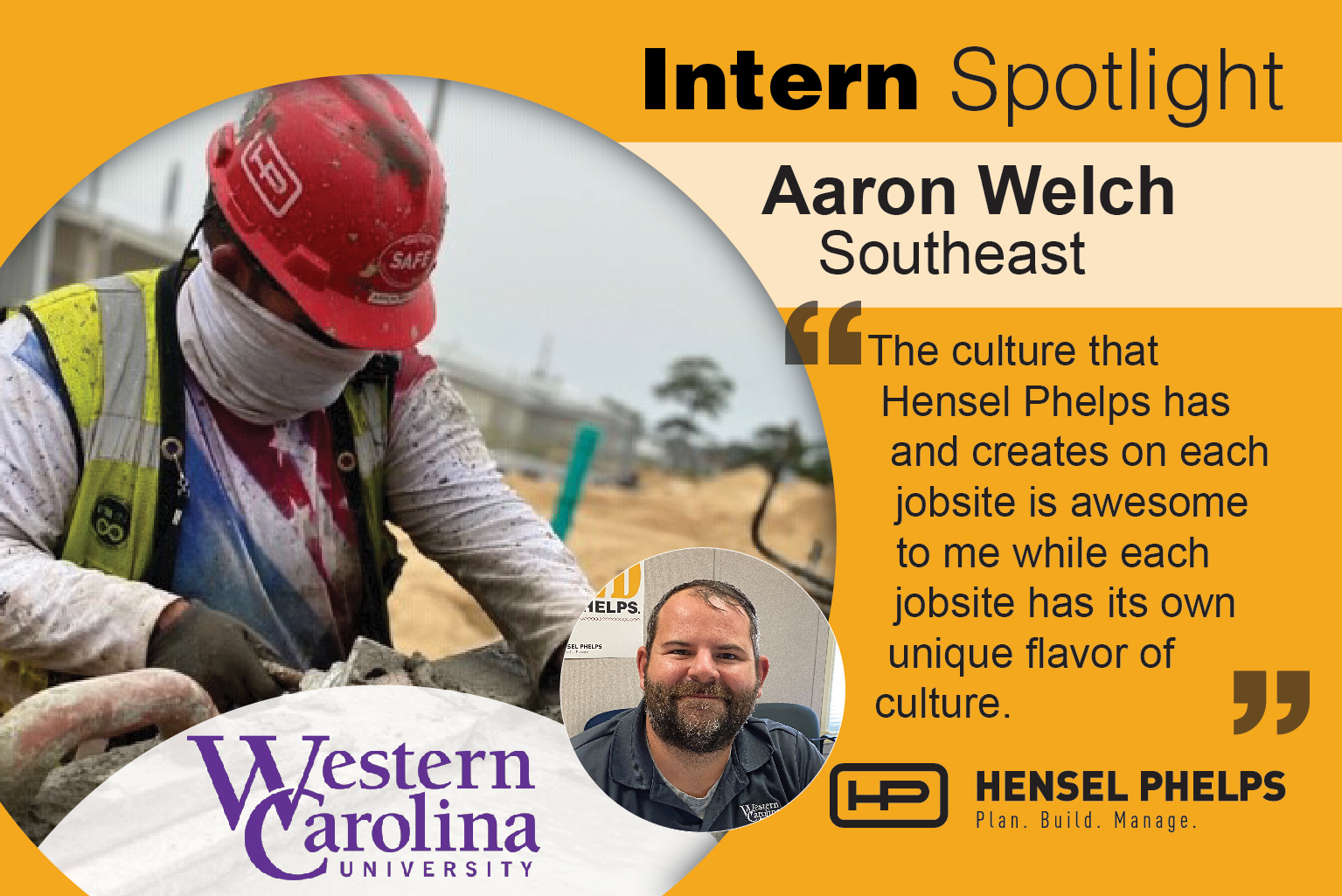 For the third summer in a row, Aaron Welch has joined the Hensel Phelps team and is currently working at Eglin Air Force Base in Northwest Florida. Aaron previously interned on Orlando International Airport's Airside Four Renovations in 2018 and Navy Federal Credit Union Campus Expansion in 2019.  As an Air Force Veteran and Western Carolina University student studying Construction Management, Aaron is grateful for all the knowledge and advice he has received as a Hensel Phelps Southeast Intern.
Hensel Phelps Q&A with Aaron Welch:
Name: Aaron Welch
School/Graduation Year: Western Carolina University 2021
Field of Study: Construction Management
Hometown: Marshall, NC
District: Southeast
Project: Eglin Air Force Base, FL
Fun/Random Fact: Has competed in a meatball eating competition
What was it about Hensel Phelps that made you want to continue interning here?
The moment I realized Hensel Phelps was different, is just from something simple I remember, sitting at my desk working on a trend chart and our Project Manager John Smalley came to me and said "what are you doing?" I told him I was working on a trend chart and he said, "Hey stop that come have lunch with me". This was just a small act but I had never had a boss do that before and it helped me realize that whether you're an intern or a new hire starting at Hensel Phelps, people do care about you and they want you to succeed, because if you succeed then Hensel Phelps succeeds.
Why do you love construction?
Growing up, my dad has always been in construction and it feels like he has done so much over his career. I remember when he started his own little home improvement business and I remember so many summers of being his apprentice. Working with my dad everyday and getting to spend that time with him while also learning and working with my hands gave me a love for construction. Then you throw in the fact that working with Hensel Phelps we get to build some incredible landmarks that will stand for 50 years or longer. As a builder you can say I helped make that happen and it's an amazing feeling.
What's your favorite thing about working for Hensel Phelps?
The culture that Hensel Phelps has and creates on each jobsite is awesome to me, while each jobsite has its own unique flavor of culture. The team atmosphere that happens on our jobsites is amazing. Once I got out of the Air Force, I really started to miss that team bond I had with so many people I considered great friends. Hensel Phelps gave me another team to be a part of and the people I have been able to meet and hangout with has been a blast this whole time. I still stay in touch with the people I met during my first internship: texting, phone calls, even reaching out for advice during this internship. A void was kind of filled with the people who made me feel like I was a part of a team again, whether it was on the jobsite or weekends being invited to hang out. I once again had that filling of what it means to be a part of a team.
Of the five Hensel Phelps Core Values, which means the most to you?
Integrity is the one core value that means the most to me because, during my time in the Air Force, that was one of our core values as well. Integrity first. This core value really resonates with me because integrity is a characteristic that often comes to light in a more difficult circumstance. Speaking up when it is a tough environment or even being the man or woman to admit when a mistake has happened. Parts of our job are demanding and often times not easy, but through my experience with Hensel Phelps we always work through it as a team and do it with Integrity.
What is the best advice you've received during your internship?
Even though I don't always have the answer, I know I can always turn to someone to help me find what I'm looking for. This puts me at ease as an intern, knowing that Hensel Phelps has the resources in place to help me learn and succeed. This could be something such as the FOG, our project has a OneNote page with countless information and tutorials on it that I have used to help me find information and be able to tackle things such as submittal items in prolog or even something simple such as setting up a Microsoft teams meeting. Whether the question is big or small, if you use those resources, you can find just about any answer you are looking for.
To learn more about the Hensel Phelps Intern Program and other career paths that Hensel Phelps has to offer, visit  https://www.henselphelps.com/careers/