Hensel Phelps recently made great strides supporting Texas communities, teaming-up with organizations such as Habitat for Humanity, iACT's Hands on Housing, Rebuilding Together Houston, Down Home Ranch, and Texas Boys Ranch Children's Shelter. See how our Southwest District worked together to help make a lasting impact that extends beyond their jobsites: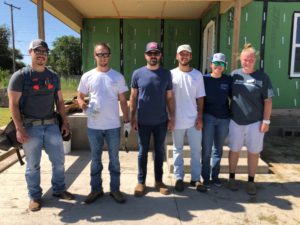 Habitat for Humanity – Lubbock, Texas
Lubbock's Habitat for Humanity aims to provide affordable housing options for individuals and families with low to moderate incomes. Since 1987, they have built and repaired 134 homes, providing shelter for over 452 adults and children. Our jobsite staff in the Lubbock area joined Habitat for Humanity in their efforts and helped install brick ties on the exterior of a house. They also picked up trash and cleared out the landscaping.
Rebuilding Together Houston – Houston, Texas
Our Houston-area employees partnered with the Rebuilding Together Houston team to work on the home of Ms. Arletha Turner. Ms. Turner has lived in her home for 36 years and was a victim of Hurricane Harvey. A group of 25 employees and their family members assisted with repairing siding and trim, caulking, landscaping, and repainting a detached garage. They also installed a ramp in the front of the house to make it more accessible for the homeowner. Since 1982, Rebuilding Together Houston has repaired the homes of low-income seniors, U.S. military veterans, homeowners with disabilities, and working families impacted by natural disasters.
iACT's Hands on Housing – Austin, Texas
Over the course of three days, our Austin-area jobsite teams updated a home that needed new siding and plywood. The team scraped existing paint, repainted the house, window trim, and burglar bars. A special thank you to the Cherry Coatings team for joining in the efforts! iACT's Hands on Housing is an organization that helps to repair the homes of senior citizens and disabled individuals who are living in deep poverty. Their goal is to keep homeowners safe and help them remain in the homes and neighborhoods they love.
Down Home Ranch – Elgin, Texas
Down Home Ranch seeks to empower the lives of people with intellectual and developmental disabilities through social, educational, residential, and vocational opportunities. This hidden gem is located just 35 miles east of Austin and provides residency to more than 42 ranchers. Our Southwest District Office team spent the morning helping Down Home Ranch clean out their overgrown blackberry patch. After lunch, they helped the ranchers decorate for their Halloween Monster Bash.
Texas Boys Ranch Children's Shelter – Lubbock, Texas
Our Lubbock team spent a day at the Texas Boys Ranch Children's Shelter — an emergency shelter that serves children entering the foster care system. The children in this program range from 3-14 years old. Hensel Phelps assisted with cleaning the outdoor areas and maintenance on the exterior of the building.
McKinney Falls State Park – Austin, Texas
McKinney Falls is a 700-acre park that features hiking, camping, fishing, biking, and picnicking, as well as scenic waterfalls that cascade into Onion Creek. The park is also home to "Old Baldy," a 500-year-old cypress tree and one of the oldest bald cypress trees on public land in Texas. Our Austin-area jobsites started the day off bright and early with a stretch and flex. The teams split up to clean out fire pits throughout the campgrounds, clean the trail corridor, install waist-high grills, pick up litter, and paint restrooms.
Mammoth's Trunk Trail – El Paso, Texas
Our University of Texas at El Paso project team joined forces with Franklin Mountains State Park to clean Mammoth's Trunk Trail. This area is home to various species of wildlife including javelina, deer, sheep, mountain lions, rattlesnakes, and golden eagles. The team helped clean the parking lot area and collected trash along the trail to help preserve this natural rock formation for both wildlife and hikers.
A huge Thank You goes out to these organizations for their work in our Texas communities and for allowing Hensel Phelps to join them in their efforts.
To learn more about Hensel Phelps' community involvement, visit www.henselphelps.com/the-hensel-phelps-way/community.