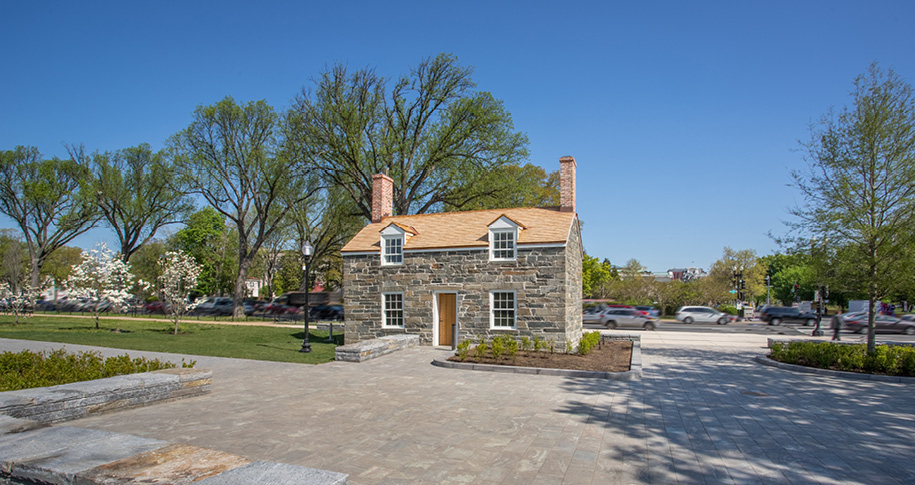 On October 23rd, the Lockkeeper's House, located on the National Mall in downtown Washington, D.C., was officially opened to the public. Hensel Phelps completed an almost two-year transformation of the oldest structure on the National Mall and it now serves as an educational center for visitors to our nation's capital.
The grand opening was attended by more than 100 supporters, including Hensel Phelps employees. Remarks were given by U.S. Secretary of the Interior Ryan Zinke, D.C. Councilmember Jack Evans (Ward 2), Destination DC President & CEO Elliott Ferguson, Acting Superintendent of National Mall and Memorial Parks Patricia Trap, and Trust for the National Mall Chairman John E. "Chip" Akridge and President & CEO Catherine Townsend. Third grade students from Aiton Elementary were the first school group to tour the new site with a park ranger.
"The National Mall is one of the most important cultural landscapes in our country, every corner telling a different part of the story of the people and places who have shaped our collective history. The opening of the relocated and restored Lockkeeper's House provides a new opportunity for interpretation featuring not only the stories of Washington's early history but also a dynamic look at how much the landscape has changed over the years," said Trap.
Untouched for 40 years, Hensel Phelps began restoration of the structure in Spring 2017. This process included relocating the Lockkeeper's House from its previous location. Prior to the move, the team elevated the house two feet above the current foundation using a hydraulic lift. The structure was supported by 50-foot beams across its length and 25-foot beams across its width. To move the 184-year-old structure, a "road" was constructed with layers of rocks and steel plates. Each corner of the house was supported by dollies that, when operated by a remote control, moved simultaneously to "drive" the house along the road. In total, the house moved 36 feet south and 35 feet west. The slow, methodical move took nearly 60 minutes. ​​
Following the move, the exterior of the structure underwent a complete historic restoration to its original design while the interior was rehabilitated for use as an exhibit space with the addition of a new below-grade space. Digital educational displays tell the history of the house and its importance to Washington, D.C. Significant landscape improvements were made onsite, making the park more inviting to visitors and residents. Hensel Phelps is proud to have been a part of restoring this landmark facility on the National Mall.
For more information on the Lockkeeper's House project, visit our project page.