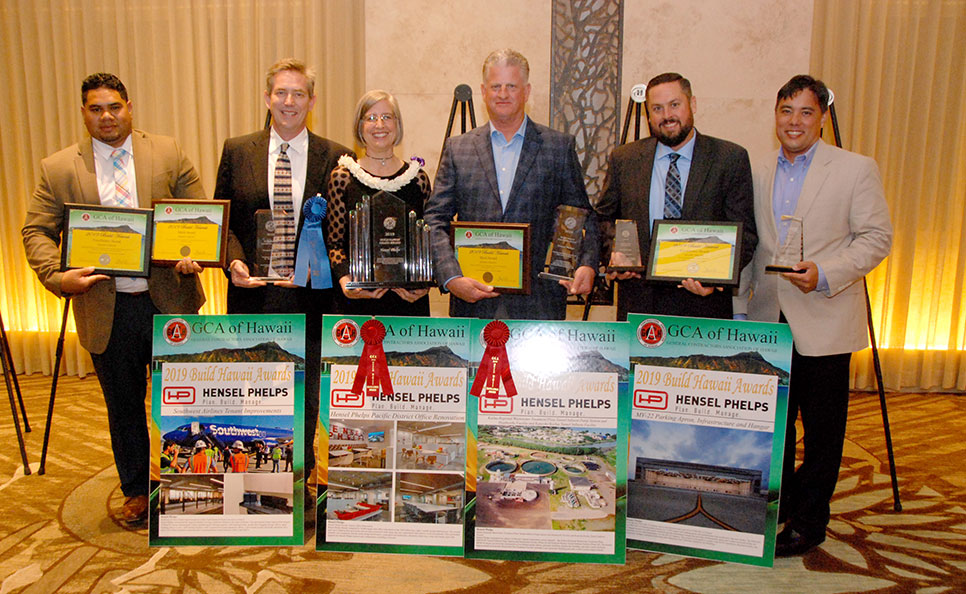 On April 27, the General Contractors Association (GCA) of Hawaii celebrated its 16th Annual Build Hawaii Awards program to showcase and honor the best construction projects in Hawaii. Hensel Phelps' Pacific District took home the Grand Prize for the Kailua Regional Wastewater Treatment Plant (RWWTP) Tunnel Influent Pump Station and Headworks Facility and Kaneohe/Kailua Tunnel Influent Facility project.
The project was part of the City and County of Honolulu's largest wastewater improvement project on Oahu. It involved the construction of a new influent pump station, odor control facilities, headworks facility, generator building at the Kailua RWWTP, odor control system improvements and a new generator building at Kaneohe Wastewater Pre-Treatment Facility.
Operations Manager, Rick Crago, who oversaw the project, accepted the award along with Honolulu Mayor, Kirk Caldwell, and Lori Kahikina, the director of the City's Department of Environmental Services.
"We want to recognize Hensel Phelps and the many engineering, construction management, and geotechnical firms that partnered with the City to improve Windward Oahu's sewage collection and treatment system ahead of our June 2018 Consent Decree deadline and within budget," Kahikina wrote in a letter to the GCA of Hawaii.
This is the first non-commercial project in Hawaii to win the Grand Award in over five years.
In addition to the Grand Award, Hensel Phelps also won awards in the following categories:
Municipal and Utilities Construction, More than $10 Million – Award of Excellence, Kailua Regional Wastewater Treatment Plant Tunnel Influent Pump Station and Headworks Facility and Kaneohe/Kailua Tunnel Influent Facility
Building Construction, $1 – $10 Million – Award of Excellence, Hensel Phelps Pacific District Office Renovation
Federal Construction – Award of Merit, FY14 MCON P907 MV-22 Parking Apron and Infrastructure and FY14 P908 MV-22 Hangar
Renovation/Remodeling, Less than $10 Million – Award of Merit, Southwest Airlines Tenant Improvements at Lobby 6 and Diamond Head Concourse at Gate 6