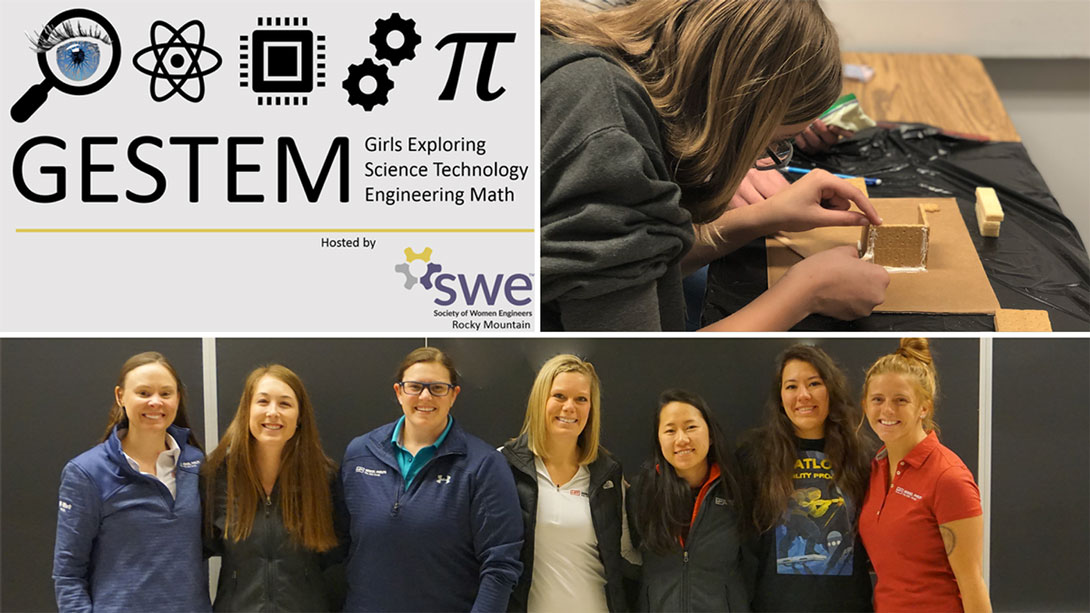 Last month, eight Hensel Phelps Plains District employees volunteered at the Girls Exploring Science, Technology, Engineering, and Math (GESTEM) event on the University of Colorado Auraria Campus in downtown Denver, CO. This annual Denver metro area event is hosted by the Rocky Mountain Section (RMS) of the Society of Women Engineers (SWE). This year, approximately 1,000 seventh-grade girls participated in a free day-long series of hands-on workshops designed to introduce them to possible STEM careers. This event was made possible by more than 400 volunteers and numerous corporate sponsors.
Hensel Phelps' station challenged the girls with designing and building a house (on time and within budget!) for the Teddy Graham family by using a variety of materials that included candy, frosting, and graham crackers. The girls had to draw the house in 3D, get it approved by the T. Graham family, estimate and purchase the required materials, and then build the house. During their build, the girls were thrown a curveball, or owner-change directive, to add something unique to their house, such as a swimming pool, fence, or chimney. The team that finished first and had the best house each won a Hensel Phelps drawstring bag.
As part of Plains' in-house Women's Network (W-Net), Hensel Phelps' female employees have been volunteering for this local event for the last eight years in an effort to help educate girls on the exciting educational and career opportunities available in the world of science, technology, engineering, and math — the very path that has led so many women to Hensel Phelps.
Hensel Phelps' Sarah VandeLaar encapsulates the reason why we have participated in GESTEM for so many years: "We are frequently asked why we participate in GESTEM, with such a young audience, and it's pretty simple. Hensel Phelps is passionate about supporting our local construction workforce, especially letting females know that they belong. By reaching girls as early as 7th grade, we ensure this message is delivered by role models who are actually at the table: the women of Hensel Phelps."
For more information about this annual event and information about SWE RMS GESTEM, click here.