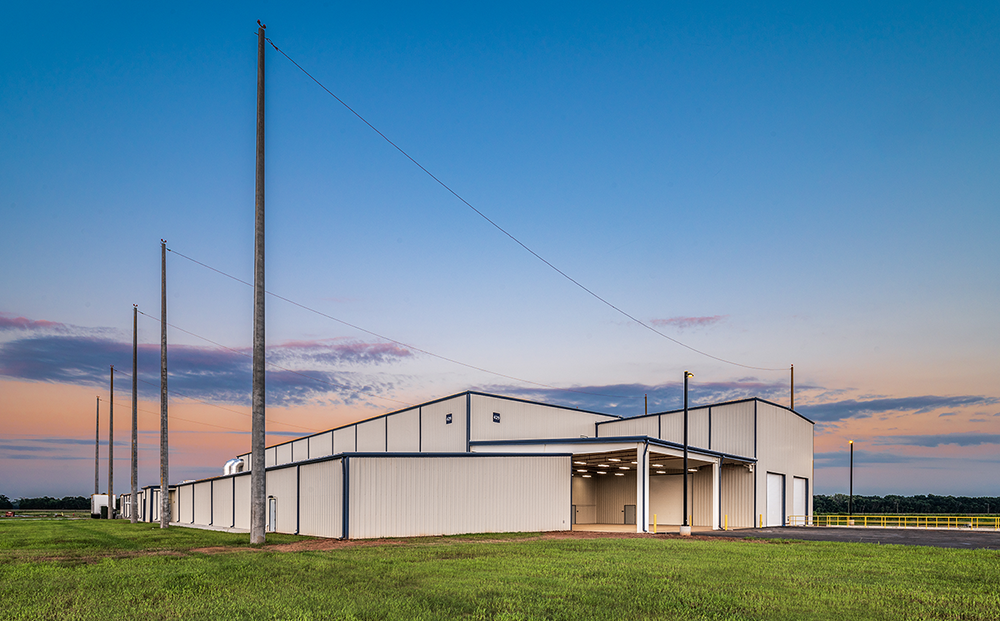 On October 4, 2021, Lockheed Martin held a grand opening for the Missile Assembly Building 4 (MAB4) in Courtland, Alabama. The event was attended by state, local and military leaders, including the appearances of Governor Kay Ivey, Lockheed Martin President and CEO Jim Taiclet and Courtland Mayor Linda Peebles. The MAB4 will construct the Army's Long Range Hypersonic Weapon and the Navy's Conventional Prompt Strike missile.
Hensel Phelps broke ground on the MAB4 in September of 2020 and swiftly constructed the 72,000 SF building in only nine months. The facility is a pre-engineered metal building (PEMB) comprised of a 40,000 SF, 40-foot tall high-bay assembly, and an 18,000 SF, 14-foot tall low-bay space. The high-bay consists of two bridge cranes spanning the south bay with a five-ton and 25-ton capacity. Due to the sensitive nature of the assembly material, the entire facility is heavily grounded to prevent any type of static electricity or energy within the high-bay. The epoxy system that covers the floor is a conductive epoxy which has an upwards of a 500,000 Ohms resistance and the entire structure is surrounded by a roughly twenty 75-foot tall catenary lightning protection pole system. The low-bay houses roughly 20-50 employees and is comprised of offices, conference space, restrooms, locker space and additional assembly space for ground support equipment and payload vehicle assembly.
Additional spaces include an 8,000 SF air lock/loading dock area, a 400 SF air compressor PEMB building, a standalone 100-person tornado shelter and an employee parking lot.
Although the main facility has been turned over to Lockheed Martin, Hensel Phelps is continuing active construction for an approximate 14,000 SF annex addition which is connected to the back side of the hangar. This annex will be utilized as a paint booth and operate on its own MEP systems. The addition is scheduled to complete in January of 2022.