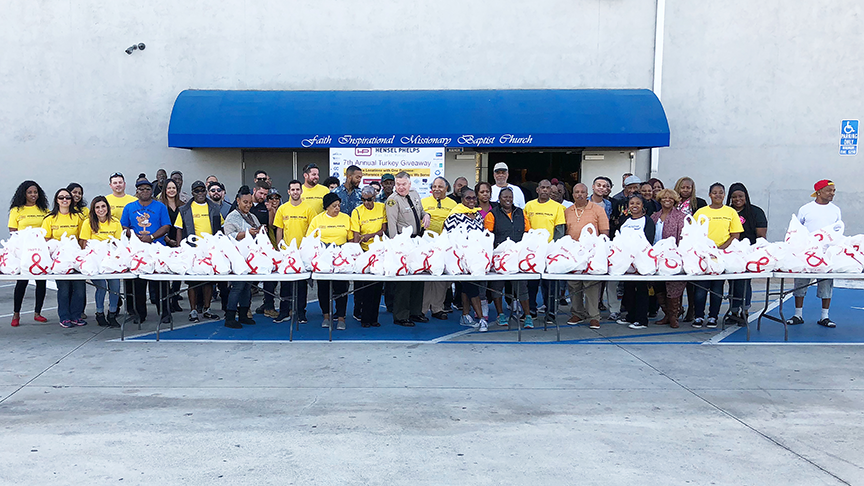 Thousands in Southern California receive frozen turkeys for Thanksgiving
For the seventh straight year, Hensel Phelps' Southern California District, along with subcontractors and community partners Faith Inspirational, 2nd Call, Parents of Watts, PVJOBS, SDSU Research Foundation, California WIC, Community Settlement Association and Riverside Community Health Foundation, held their annual Thanksgiving Turkey Giveaway at six total southern California locations in Chula Vista, Los Angeles and Riverside.
The three-day turkey giveaway started out with excited volunteers gathering to collect, count, bag and prepare frozen turkeys to be distributed across the city of Chula Vista, Los Angeles County and the city of Riverside.
"Hensel Phelps is extremely proud to be able to give back to the communities where we have built lasting relationships. Our hope is that challenged communities will be able to share the joy and the memories that the Thanksgiving holiday brings. This event is truly special for the employees of Hensel Phelps and one we look forward to annually," said Executive Vice President Brad Jeanneret of Hensel Phelps.
With Thanksgiving the same week, the Hensel Phelps Turkey Giveaway was planned to ensure that families in Southern California that face challenges and hardships were provided the opportunity to celebrate Thanksgiving with their families and loved ones with food on the table.
With a history of giving back and community service, Hensel Phelps, subcontractors and community partners provided over 3,100 frozen turkeys across Southern California to local families. The event was made possible by generous contributions from subcontractors, general contractors and community members.