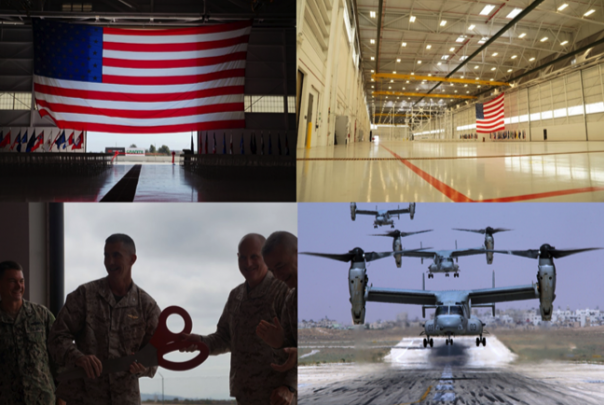 The Hensel Phelps Granite Joint Venture Team held the ribbon cutting ceremony for the new MV-22 Hangars at Marine Corps Air Station (MCAS) Miramar.  In partnership with NAVFAC SW and MCAS Miramar held the ceremony for P-192 – Aircraft Maintenance Hangar 7, San Diego's newest operational military hangar.  The ceremony, held on the 12th anniversary of the September 11th terrorist attacks, was highlighted with personal stories from U.S. Marines and Hensel Phelps employees of their experiences that day and the significance of the completion of this facility on this anniversary.
The completion of Hangar 7 marked the end to the second of three phases of work encompassed in the Hensel Phelps Granite Joint Venture contract with NAVFAC.  The first phase that was turned over was that of P-152 – Parking Apron/Taxiway Renovations which were completed this past June, one year ahead of schedule.  The final phase of the contract involves P-185 Aircraft Maintenance Hangar 4 Addition and this project is scheduled for a late October 2013 turnover, also one year ahead of schedule.
Project Highlights:
Largest construction project awarded and completed at MCAS Miramar
Hangar 7 (P-192): First ground-up purpose built operational MV-22 Osprey hangar completed and put in operation in United States Marine Corps history.
Apron is believed to be the largest application ever of High Temperature Concrete (HTC) for NAVFAC.  The apron consists of nearly one million square feet of 14" inch thick concrete, totaling over 36,000 cubic yards of concrete placed.  All of this with no REBAR.
Project was able to reach LEED Gold even though the requirements were only for LEED Silver certification.  The Project Team was actually able to come within 5% of LEED Platinum
The entire team of architects, engineers, contractors and our craftspeople were proud to be a part of these amazing facilities which are designed and built to enable the operation of both the MV-22 (medium lift) aircraft and CH-53 (heavy lift) helicopter.  These projects are enabling the Marine Corps to accommodate and maintain the MV-22 squadrons; conduct MV-22 readiness and training operations; and conduct special exercise operations to attain and maintain proficiency in the operational employment of the MV-22.
Our project team wishes to thank all those involved with the project.  Oorah!