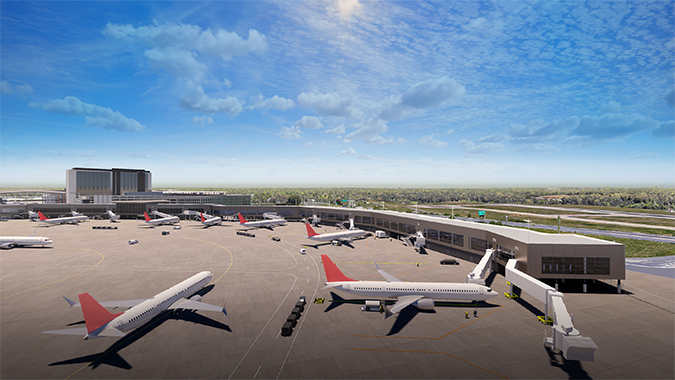 The Metropolitan Nashville Airport Authority awarded the Hensel Phelps | Fentress Architects progressive design-build team the $250 million BNA® Concourse D Extension in Nashville, Tennessee. The Concourse D Extension is part of the New Horizon Program, which provides terminal expansion, landside improvements and system improvements for the Nashville International Airport.
The Concourse D Extension will include a 190,000 SF five-gate extension to the existing Concourse D to allow for more passenger movement and capacity. The extension will include new concessions, art spaces, restrooms, airline support spaces and passenger hold rooms while the high-end finishes will blend seamlessly from the existing concourse. Construction will be adjacent to the central utility plant and active Concourse D while keeping the airport fully operational. The progressive design-build team will design the project to meet LEED v4 BD+C certification and is slated to open its doors in the fall of 2025.

As part of the BNA® Vision program, Hensel Phelps and the Metropolitan Nashville Airport Authority began their relationship in Music City over four years ago with the contract of the award-winning original Concourse D and Terminal Wings project. They are currently constructing the Terminal Lobby and International Arrivals Facility that will open to the public in the fall of 2023.
Hensel Phelps has successfully delivered projects in the Middle Tennessee region since the early 1990's. Since 2018, the company has delivered/is constructing more than $1 billion of work in Nashville. Hensel Phelps is honored to continue building the Music City skyline while making a lasting impact on the Nashville community!