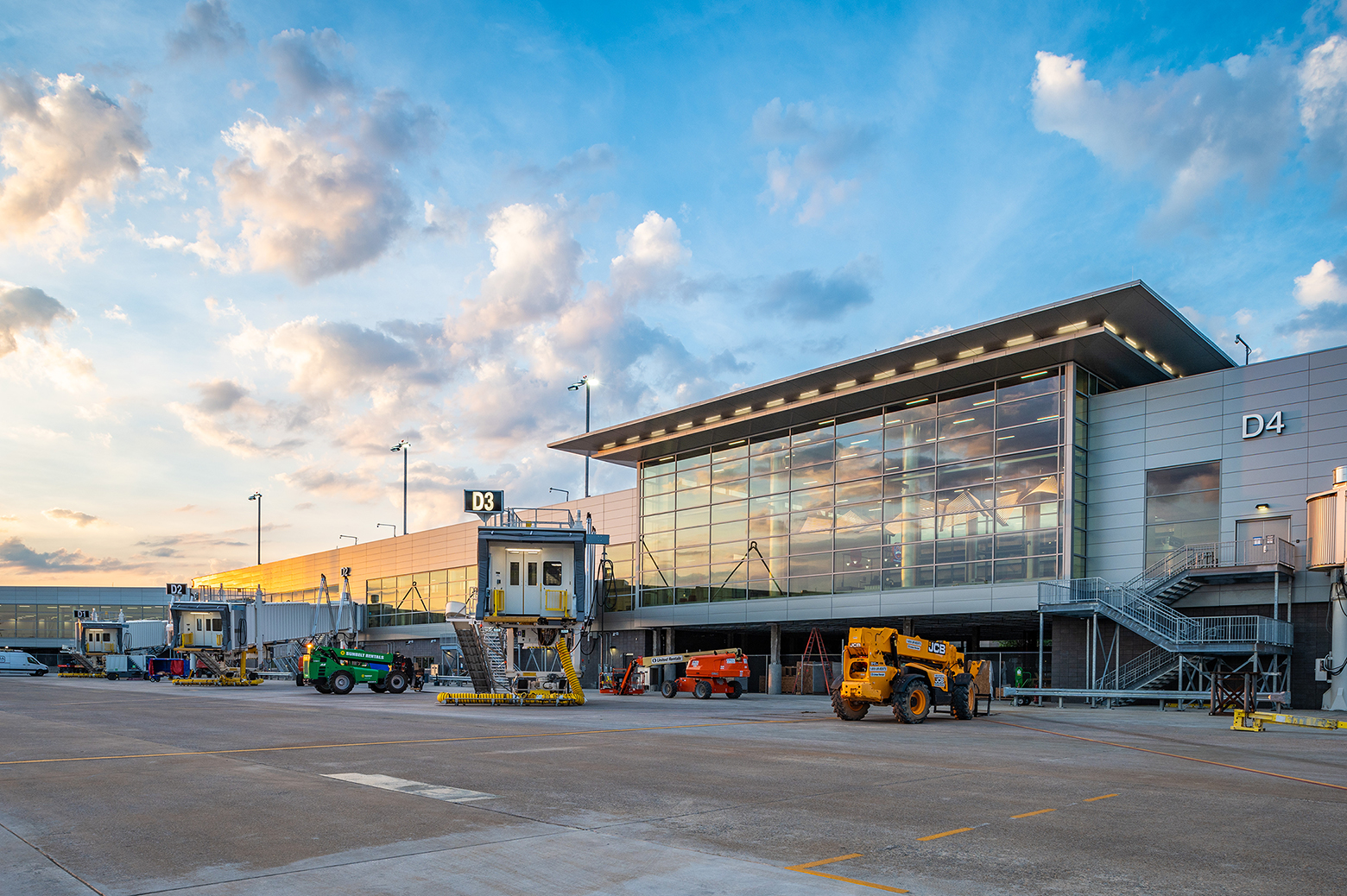 On Friday, July 17, 2020, The Hensel Phelps | Fentress Architects Progressive Design-Build Team celebrates the successful opening of the new $292 million, 302,400 SF Concourse D and Terminal Wings Expansion project at Nashville International Airport.
Due to the unprecedented growth of the region, the Nashville International Airport (BNA) embarked on an aggressive seven-year plan to rapidly expand the airport's capacity, while maintaining day-to-day operations. The Concourse D and Terminal Wings Expansion Project is a major project of the program, dubbed "BNA Vision".
The 115,000 SF Concourse D features six domestic aircraft gates, public art, and a variety of traveler amenities for passengers to enjoy. In addition to the new concourse, the project expanded the airport's Ticketing Lobby and Baggage Claim by adding 200,000 SF of space to the north and south ends of the terminal. Other components of the project include remodeling 136,000 SF of existing terminal space and the construction of a 11,000 SF Central Utility Plant. As the new structures came online through the complex phasing of construction required at an active high-volume airport, the Hensel Phelps team successfully orchestrated the relocation of every airline's ticketing operation and TSA security screening without interrupting a single flight. The relocation of ticketing and TSA sets the stage for the third project of The BNA Vision, the $330 million, 780,000 SF BNA Terminal Lobby and International Arrivals Facility, which was awarded to Hensel Phelps in November 2018.
The BNA Vision encompasses $1.4 billion of concurrent projects executed by four prime contractors. Each project is design-build and requires weekly program coordination meetings between the prime contractors and BNA to ensure that construction, site utilization and utility shut-down and start-up activities are sequenced accordingly to not disrupt airport operations and each projects schedule.
"This is an extraordinary accomplishment! Concourse D was BNA's first progressive design-build project in their Vision Program. The complexity and speed of a project of this scale at one of the fastest growing airports required a true partnership between the BNA Staff, the Hensel Phelps Design-Build Team, our local trade partners, and SMWBE firms. To be able to progress from the start of design 900 days ago to today and deliver to Nashville this expansion of world class quality while maintaining an outstanding safety record is extremely gratifying."
Scott Shelby, Operations Manager, Hensel Phelps
Hensel Phelps would like to thank each of our teaming partners who worked diligently to bring this project to completion including: Fentress Architects, Magnusson Klemencic Associates, I.C. Thomasson Associates, Collaborative Studio LLC, Logan Patri Engineering Inc, Nashville Machine Company Inc, Wolfe & Travis Electrical, Cooper Steel, RC Mathews, Cooper Steel, ISEC Inc , JW McDougall, Maxwell Roofing, Physical Security, Elite Flooring, David Allen Company, Dannix Painting, Zoeftig, AERO Bridgeworks, Premier Fire, Cape Fueling, Hi-Way Paving, Pillars, EJO Ventures, Demo Plus, Dennis Concrete, Utopia, KONE, Walton Signage, Stonhard, Wall Tech, Johnson Controls Inc., G&S Airport Conveyor, McInerney & Associates, Overhead Door Co. of Nashville, Cook & Boardman, Alpha Insulation & Waterproofing, Kelly Construction, Mckinney Drilling, Rembco and Civil Constructors.
Hensel Phelps proudly worked with 70 Small, Women, and Minority Owned Business (SMWBE) partners with contracts totaling $55 million, and would like to thank all of the local small business partners including Don Hardin Group, Southeastern Constructors, Utopia Building Group, Pillars, EJO Ventures, Demo, and Dennis Concrete.
About Nashville International Airport
"The new Concourse D gives us more capacity for commercial air service to meet the rising demand for travel to and from Nashville," said Doug Kreulen, MNAA president and CEO. "At the same time, it's an impressive, energy efficient structure reflective of the world-class airport that is taking shape. BNA Vision is an exciting series of projects, and there's much more to come. We are proud to serve Nashville and Middle Tennessee."
With nearly 18.3 million passengers in 2019, Nashville International Airport (BNA) has been one of the fastest growing airports in North America. According to a recent study, in 2019 alone, BNA generated more than $8.1 billion in total economic impact, supported more than 76,000 jobs in the region, and produced more than $443 million in state, local and federal taxes. BNA receives no local tax dollars. For more information, visit flynashville.com