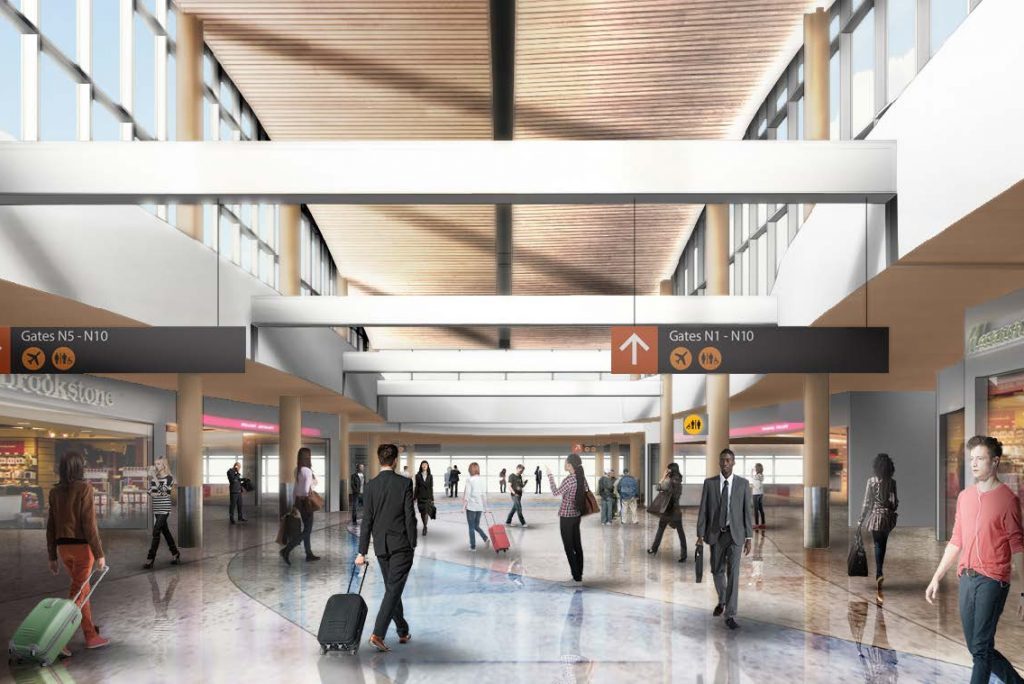 Hensel Phelps and US airports keep pace with current and future needs.
Travel anywhere through the United States these days and you'll see evidence of an airport terminal renaissance. Passenger spaces filled with natural light, improved amenities and an emphasis on retail and dining opportunities greet travelers at airports that have completed renovations. At others, plastic sheeting and temporary partitions provide hints at the extensive construction projects underway. These renovation and expansion projects are driven by an increased number of air travelers and a need to address improvements that were deferred for years. The International Air Transport Association predicts that the number of air passengers worldwide may double by 2035, placing an incredible amount of pressure on airport infrastructure to be able to support the increased number of travelers. Rapidly changing technology and service trends have also accelerated the need for airports to accommodate these new offerings.
Hensel Phelps has been working with many airports across the US as they tackle major renovation and expansion projects. Having delivered over 190 successful aviation projects at more than 30 regional and international airports, Hensel Phelps is one of the top aviation contractors and on the forefront of emerging airport trends. Collaborating with the most forward-looking airports in the country allows Hensel Phelps to be a leader in design, management, sustainability and technology.
In Tennessee, the Nashville International Airport is a new concourse and expanding the ticketing lobby and baggage claim with additions to the north and south ends of the terminal as well as remodeling existing space and building a new central utility plant.
"Travelers want and need more aircraft gates, more destinations, more dining and more retail as part of their BNA experience. That's exactly what we'll be giving them when this project is completed," said Bobby Joslin, Metropolitan Nashville Airport Authority Board of Commissioners chair. "The new Concourse D is one of many projects that comprise BNA Vision. I couldn't be more pleased with the overall direction of our airport and how we are rising to the challenge."
Successfully executing terminal expansions and renovations requires strong partnership and collaboration between the airport authority, design lead and construction lead with all stakeholders completely engaged. Scheduling, cost management, site logistics and jobsite security are also crucial aspects of these complex projects.
The Port of Seattle and Alaska Airlines are renovating and expanding the existing North Satellite Terminal at Seattle-Tacoma International Airport. This project will increase the number of airport gates and extend the terminal, while also modernizing the facility with all new systems and amenities to enhance the passenger experience. The renovated facility will feature spaces with expansive windows that focus on the natural beauty of the surrounding Cascade Mountains.
The San Francisco International Airport is redeveloping Terminal 1, one of its oldest terminals, to meet the needs of modern travelers and the increased number of fliers. The new terminal will offer an improved passenger experience starting at the curb, and incorporates advanced technology for faster check-in, easier security screening, and a more efficient baggage claim system. The main concourse focuses on views of the airfield and San Francisco Bay and will house retail space featuring local vendors and restaurants.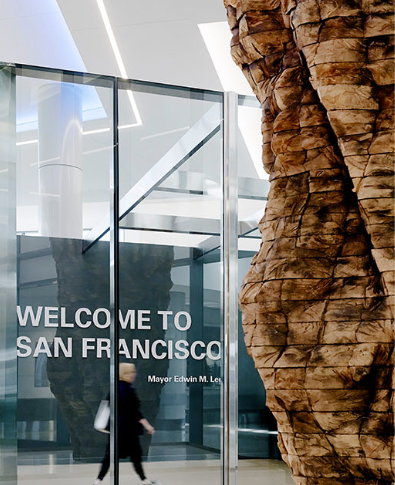 While airports need to modernize their facilities to better accommodate today's airline and traveler technologies, the design and construction process is also incorporating more technology. BIM and virtual reality are used to help airport management understand how to make the construction process more efficient, less wasteful and provide a model of how the traveler and employee experience will be impacted during the process. With appropriate clearance and permissions, drones are also being used to efficiently capture site conditions and progress.
Sustainability is another factor in airport design and construction. Airports are prioritizing energy efficient systems, renewable energy sources, diverting construction waste from landfills and more to support more sustainable buildings. For the San Francisco International Airport, the focus is on sustainable design and construction. The redeveloped Terminal 1 is anticipated to receive LEED Gold certification. In Seattle, the North Satellite Terminal is being designed and built to achieve LEED Silver certification.
Airports undergoing extensive modernization projects can anticipate that the changes in systems and structures will often drive changes to maintenance programs. Airport management needs to be vigilant about recognizing facility maintenance and operations requirements to effectively implement revised management plans.
Following the completed 20-gate terminal and new passenger concourse makeover at Dallas Love Field, the City of Dallas entered into a consulting agreement with Hensel Phelps Facility Services to analyze their current facility maintenance practices, organizational structure and maintenance budget, and to provide subject matter experts (SMEs) to determine where efficiencies could be realized. The SMEs from Hensel Phelps utilized industry benchmark data, along with their extensive experience in facility management, to develop a model facility operations and maintenance plan for Love Field, the Dallas Executive Airport and the City Heliport.
It's likely that the pace of airport construction and renovation will not slow for some time. Air passengers of today and tomorrow require updated and upgraded travel experiences and the airlines and airport authorities are prepared to meet those needs with innovative structures and sustainable designs. They rely on firms like Hensel Phelps to realize their vision for the airport of the future.
Meet Hensel Phelps at the 2018 ACI-NA Conference in Nashville, Tennesee at Booth 717. #airports18