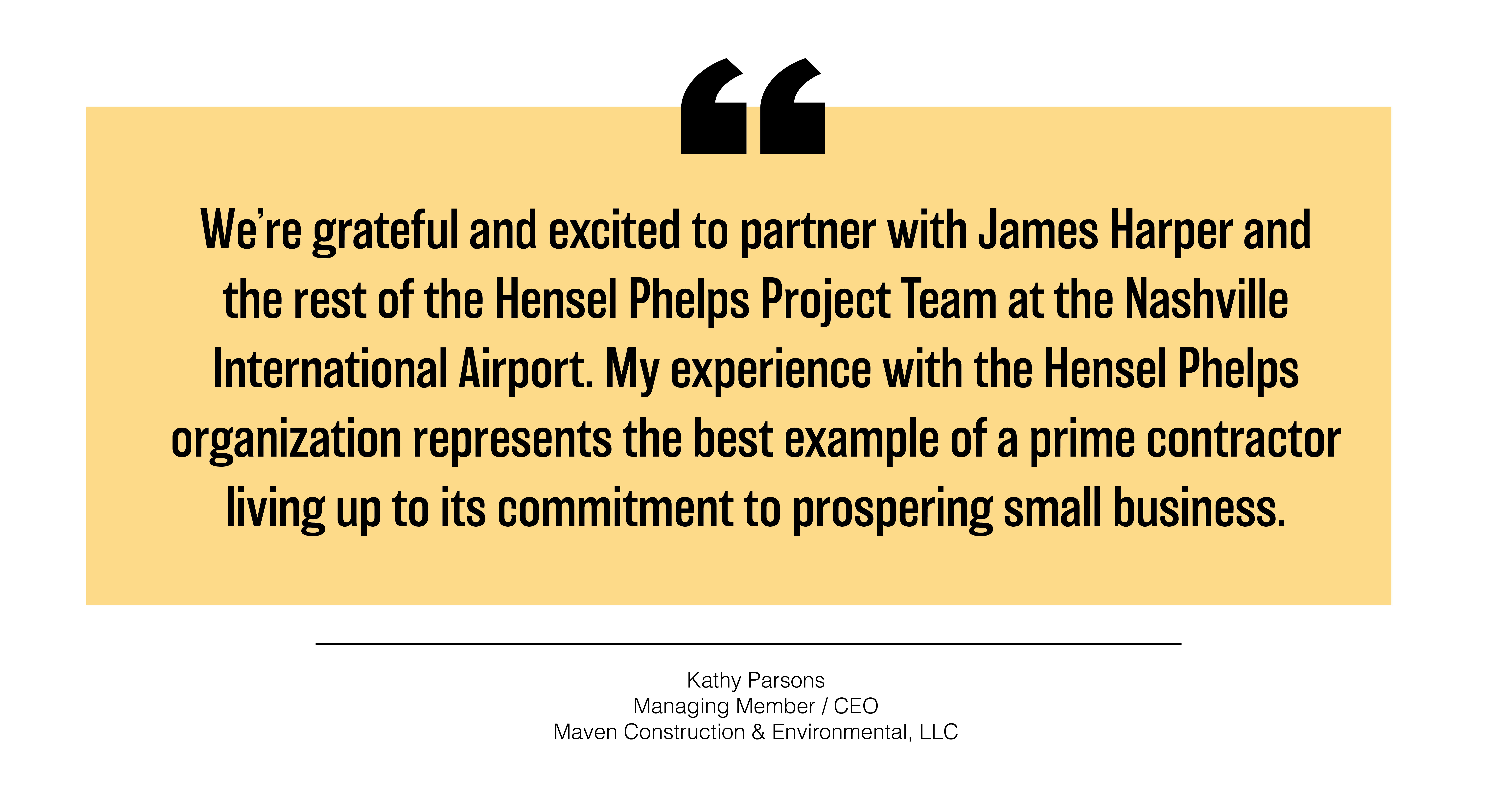 With two newly awarded construction projects in Nashville, TN, Hensel Phelps entered a new regional market in 2018. Not having a local history with proven results, this presented its own set of challenges, including establishing new relationships with local small businesses.
Led by Manager of Supplier Diversity James Harper, Hensel Phelps' project teams worked diligently to leverage relationships with the small business community, including Karen Barbour of the Barbour Group—a surety bonding agency that supports and advocates for minority and women-owned businesses. In 2009, Hensel Phelps entered into a partnership with the Barbour Group to establish the Head Start Bonding Assistance Program.
Following the award of the Nashville International Airport – Concourse D & Terminal Wings Expansion project, James and the project team began identifying small business partners with the intent of exceeding the project's small business goals. The Barbour Group was instrumental in identifying a women-owned business who was also interested in working in the Nashville market. Karen introduced Hensel Phelps to Maven Construction & Environmental, an SBA Certified 8(a) WOSB WBE/DBE general contractor specializing in roofing repair/replacement and many other areas of expertise. Maven met with Hensel Phelps many times to discuss available opportunities before successfully bidding on a roofing package on the Nashville International Airport.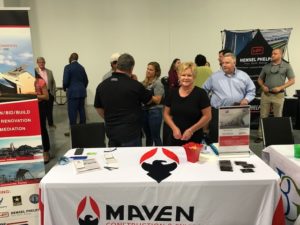 "James Harper is by far the most outstanding prime contractor small business advocate I've ever met. My positive first impression of James, and my subsequent interactions with his peers on the Hensel Phelps project team, led me to believe that pursuing subcontracting opportunities with Hensel Phelps would be a good business decision," said Kathy Parson, Managing Member/CEO of Maven Construction and Environmental.
Maven Construction & Environmental was not previously certified with the Metropolitan Nashville Airport Authority (MNAA). With Hensel Phelps and The Barbour Group's assistance, the firm was able to get certified and enter a partnership with a larger trade partner, Maxwell Roofing. The partnership was ultimately successful in bidding a $3 million roofing scope on the airport project.
"Ultimately, I decided to team with Maxwell Roofing, Inc. to bid the roofing package for the Concourse D and Terminal Wings project. Our team offered Hensel Phelps 72 years of combined operating expertise in general construction and the roofing trade, relevant past performance at Nashville International Airport, and a significant local presence," said Kathy, on her decision to partner with Maxwell.
In addition to Maven Construction & Environmental, Hensel Phelps facilitated local small business certifications for Modular Building Systems International, Sorella Group and Sledgecraft, resulting in an additional $17.4 million in contracted work to small business trade partners.
Today, Hensel Phelps and The Barbour Group continue to partner together and have recently hit a monumental milestone. Since its founding, the Head Start Bonding Program has assisted in providing $100 million in bonds to small businesses across the country. Hensel Phelps will continue to advance their small business programs and looks forward to supporting their trade partners in Nashville and throughout the nation.
To learn more about Hensel Phelps' Bonding Assistance Programs and other Small Business Programs, visit: https://www.henselphelps.com/subcontractor-outreach/