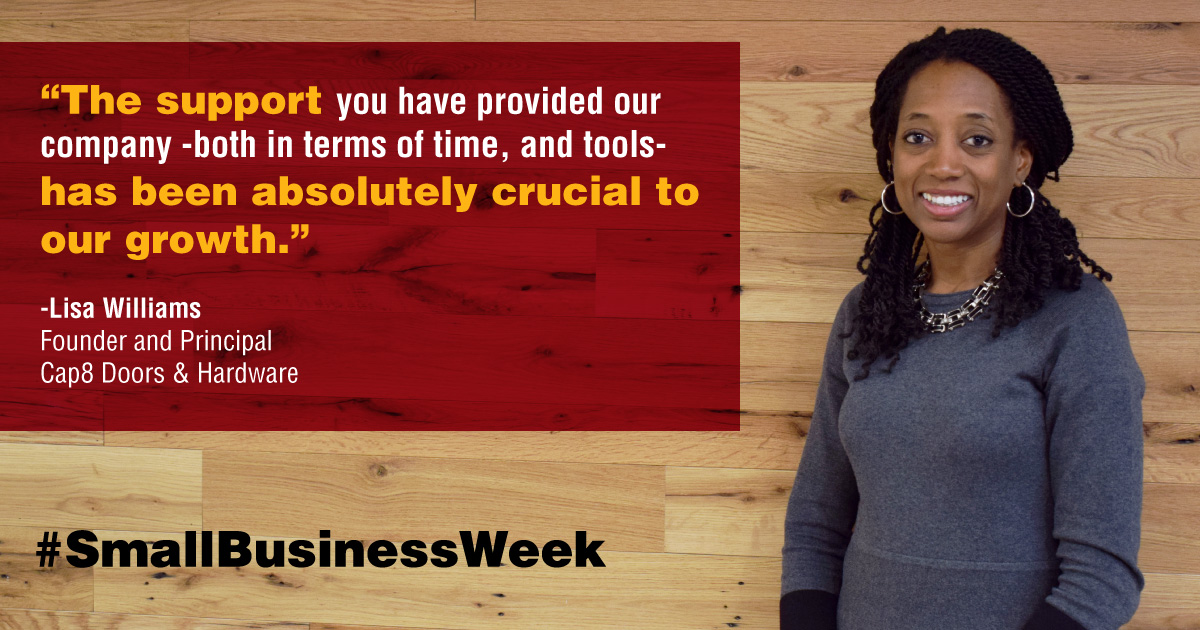 Lisa Williams of Cap8 Doors & Hardware: "The support you have provided our company -both in terms of time, and tools- has been absolutely crucial to our growth."
Hensel Phelps' Emerging 10 program is a multi-year partnership with opportunity-ready small businesses focused on continuous engagement, training, and mentorship through one-on-one support. Lisa Williams of Cap8 Doors & Hardware, a federally certified women-owned small business located in Washington, D.C., recently sat down with our team to describe her experiences working with Hensel Phelps as part of the program and her take on how our company culture uniquely benefits small business trade partners.
Lisa grew up with a father in the Navy who was stationed at the Naval Academy and the Pentagon during her childhood. Lisa was drawn back to the nation's capital after attending Florida A&M University as a student in their prestigious School of Business and Industry. Her experience at the Tallahassee, Florida HBCU fostered impressive skills in communications, networking and the development of strategic thinking –leading to a stint as a consultant for Deloitte following school. After gaining five years of perspective on different companies in a wide variety of industries, Lisa started Senate Realty Corporation with her brother, and that introduced her to the process of renovating and rehabilitating homes. Recognizing a gap in the market for good door companies focused on quality service, she founded Cap8 in 2011. Lisa was first contacted by Brad Lewis, our Corporate Director of Supplier Diversity, to begin a partnership as part of our Emerging 10 in 2016.
Lisa is an avid cyclist who gets up at 3:30am every day to work out, and regularly participates in races and triathlons. She also rides a motorcycle and isn't afraid to take chances. Lisa firmly believes her hobby reduces the micro-stresses we all encounter in our daily lives, fueling the creative process and helping her to be a better leader to her 14 staff members. She is always fearlessly looking for ways to improve Cap8's approach onsite and quality of service and feels strongly that her experiences with Hensel Phelps have helped make concrete changes to her business that will ensure increased productivity and future growth.
Hensel Phelps Q&A with Cap8's Lisa Williams:
Tell us a little about Hensel Phelps' culture of partnership.
You're not necessarily employing me, but we're working together in a relationship, and I think a lot of times how you communicate information makes such a huge difference in how I as a subcontractor take it in."
What surprised you about working with Hensel Phelps?
The one word is niceness. That surprised me. I don't know how you guys do it, but I've never met anybody who's rude here. As a partner who is just coming in periodically to do a scope meeting or have a kickoff meeting or what have you, you can tell a huge difference in terms of the environment.
We always laugh about you guys at the office because you are always so nice. I would rather as a business owner figure out every way I possibly could to do work with Hensel Phelps or a Hensel Phelps-like company. That's my goal and that's what I owe my employees. HP's different.
What makes the Hensel Phelps' Supplier Diversity Group so special?
It's a diversity group with Brad [Lewis], and Dave [David Fisher, Manager of Supplier Diversity], and people who really care. You really care about making a difference with small businesses and I think that shows. No I don't think, it does show. And that's the difference actually, that you're so committed to it.
I know if I have questions, if I have any issues, it's never a problem getting in contact with you. And your answers aren't cached in terms of, 'okay let me figure out how to defend the company.' Your answers are cached in, "what is right and what is fair?" That is what makes all the difference in terms of working with HP versus other companies, and working with you, Brad.
Talk to us about capacity-building recommendations.
One of the issues I was facing was just the flatness of our company structure [at Cap8]. I was still having a lot of frustration, because everyone was coming to me. I was always feeling torn having to go to the project sites, because I literally could not be there, I had people who needed me in the office every single day. But after restructuring my company as a result of the feedback you guys gave me, I now have a man who is at project sites every single week and sometimes even every single day. I created new roles and put three people below me [to give Cap8 a hierarchy]. Your program helped me restructure things so I could stop saying, "I can't." I have that now. I have my field side, my office side, and my financial side too.
What impact did Hensel Phelps have on Cap8's business model?
It's been about two and a half years that I've been part of the program and it's been tremendously helpful. I'll give you an example: we ran into a little bit of an issue on one of the jobs that we were working on … David [Fisher] actually came to my office and he developed a model for me that impacts all of our projects now. We had a brainstorming session [to write out] things the employees think we can improve with the company … on process, in terms of technology, and client experience. Everyone wrote down different suggestions. And one of the things that came out of it that has really had a tremendous impact on our profitability -and also on the morale of the company- is that we developed a new Quality Control position. We actually have one person now who does nothing but quality control on everything that comes out of our office, whether it's a bid, or an order… It means that we are going to do a better job, and have done a better job in terms of delivery, which saves money. I'd rather take a step back and do things to the best of our ability the right way as opposed to make mistakes we can never recover from. And … this guy is really thriving in this role… he is just skipping around the office happy. So it's a win-win situation for everybody. That came out of your program.
Why is the Emerging 10 Program different?
I'm not just saying this because I'm here … honestly, the reality is that the company I enjoy working with most is Hensel Phelps. I try to live my life incredibly authentically, and I try to approach it from a very honest standpoint.  You guys say all the right words but it's not just saying the right words… it's about actions. At Hensel Phelps there's no misalignment between the words and the actions… We figure out how to create a win-win situation so that HP is getting what they need, and also Cap8 as the partner is getting what we need. Because we're going to see each other again. It's not the final project for us we're going to see each other again hopefully on 10, 20, 100 more projects in the future -and so you don't want to create discord, you want to create harmony. And I think that's the major difference.
In conclusion, at the end of our interview, Lisa added, "I think that the connection and the access have been what I've appreciated most about the program. And I obviously can't leave out the support too; the support you guys have provided our company both in terms of time and tools has been absolutely crucial to our growth."
To learn more about the Emerging 10 Program, TAP and other small business programs that Hensel Phelps offers, visit: https://www.henselphelps.com/subcontractor-outreach/