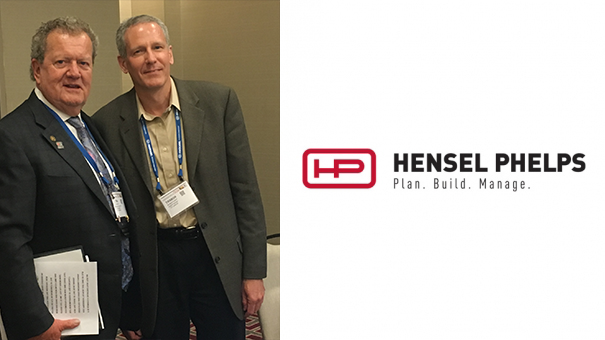 Associated General Contractors of America (AGC) has named Bob Majerus, vice president and general counsel of Hensel Phelps, the 2017 Chair of the Year. Mr. Majerus was recognized for this achievement at AGC's 99th annual convention in New Orleans, Louisiana.
AGC's America Chair of the Year Award is presented to a chairperson identified for their outstanding accomplishments and achievements in the prior year. As vice chair of the ConsensusDocs Contract Content Advisory Council, Bob helped produce comprehensive updates to the most used ConsensusDocs contract documents in 2016/17. Bob oversaw the development of the working group that created AGC commentary on the new American Institute of Architects (AIA) A201 General Conditions Document. Bob has also created multiple presentations in relations to the new AIA A201 as well as the new ConsensusDocs Documents.
Hensel Phelps president and COO, Mike Choutka, commented that, "Bob's contributions to Hensel Phelps and the construction community are immeasurable. He works tirelessly to support each facet of the company whether it is a complex development deal, a multifaceted construction project or a facilities management opportunity. He brings a practical approach to problem solving and is a tremendous asset to Hensel Phelps and the industry."
A graduate of Notre Dame's School of Law, Bob is currently admitted to the Arizona, Washington and Alaska bar associations. He is chair of the documents committee of the Associated General Contractors of America, is a member of the AGC Building Division Leadership Board and will be celebrating his 12th year with Hensel Phelps.
For more information about Mr. Majerus and the Leadership Team, visit https://www.henselphelps.com/the-hensel-phelps-way/leadership/