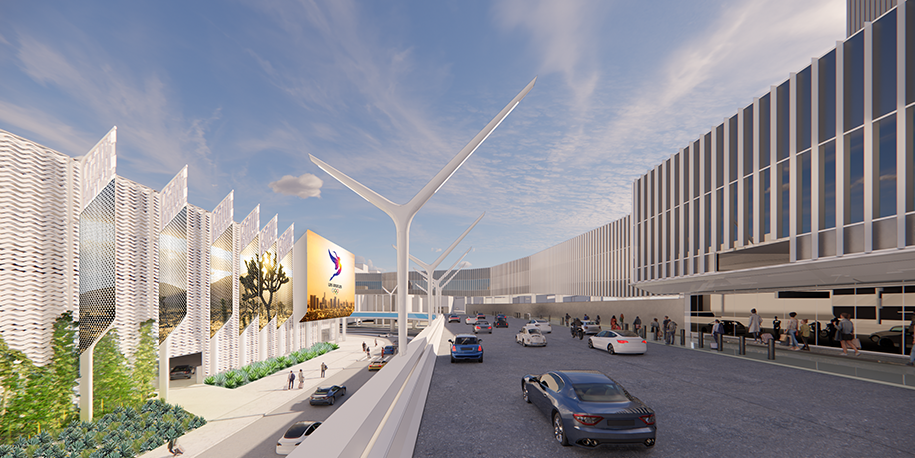 Los Angeles World Airports (LAWA) awarded the Landscaping Improvement Program to the Hensel Phelps + Studio MLA | Krueck Sexton Partners team. The $60 million, Progressive Design-Build program realizes LAWA's vision for a world-class, iconic and connected destination through a series of vibrant and accessible outdoor spaces with modernized amenities and architectural screening along the parking garages.
The team developed an approach to address the exterior experience from all angles–Oasis LAX. The vision consists of four interconnected parks, balancing hardscape, landscape, digital signage, public art and retail opportunities to create beautiful, functional and accessible spaces where people want to spend time. A system of architectural screens, landscaping and digital signage will wrap 1.5 miles of parking garage facades to unify the entire Central Terminal Area (CTA) and connect it with the new Economy Parking garage at ITF West.
Los Angeles International Airport (LAX), the world's fifth-busiest airport in 2021, is in the midst of a $15 billion capital program to address improvements across the 3,650-acre campus, from terminals and roadways to infrastructure and airfield expansion. With the 2026 World Cup and 2028 Olympics on the horizon, most work is targeted for completion to support these international events.
In early 2021, LAWA completed a planning study with three end goals: improve LAX's guest experience, enhance campus sustainability and improve pedestrian mobility and safety within the CTA. These goals became the basis for the Landscaping Improvement Program, which will prove pivotal in enhancing the entire LAX environment.
Designed by the world-renowned landscape architecture firm Studio-MLA, lush native landscaping responds to the environment while supporting sustainability and maintenance goals. Horizontal and vertical elements will connect the ground-level experience to the Automated People Mover (APM), operating 45 feet overhead, creating a cohesive and visually engaging landscape experience at every level.
Krueck Sexton Partners (KSP) are expert space planners for large public projects centered on user engagement. They realize a project's hidden potential by leveraging its competing elements and constraints to create opportunities. In this case, KSP are transforming the confined and vehicle-oriented CTA into a safe and engaging pedestrian environment connected to the outside world. As the visionaries for this effort, KSP will ensure the design is future proofed, embraces practical and is expressive of the vibrancy and relevance of Los Angeles.
Hensel Phelps continues to lead the way with alternative delivery at LAX. As the number one aviation contractor in the nation, they provide cost and schedule certainty while prioritizing public safety and airport operations. Hensel Phelps looks forward to working with this team and LAWA to facilitate efficient decision-making, a beautiful and functional design and a timeless concept that allows for future evolution and expansion.