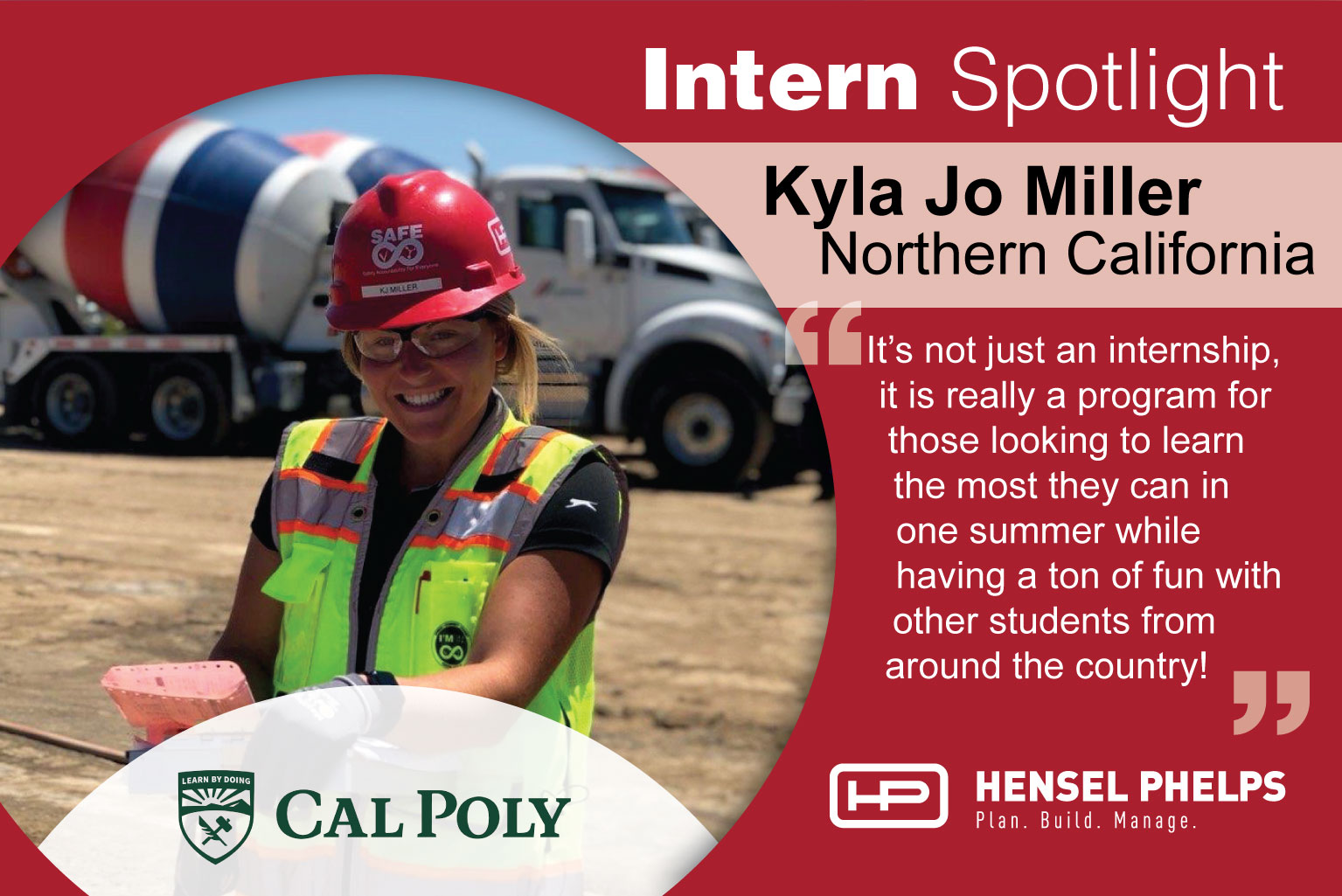 For her first internship with Hensel Phelps, Kyla Jo Miller, or KJ as she is known on-site, joined the Richards Boulevard Office Complex family. While every intern's experience might be different, KJ got in at the ground level, literally, starting on the project just as dirt was moving and piles were starting. This project and team have provided KJ with the opportunity to learn something new daily that she can take back with her for her final year at Cal Poly, San Luis Obispo.
Hensel Phelps Q&A with KJ Miller:
Name: Kyla Jo Miller
School/Graduation Year: Cal Poly, San Luis Obispo/ June 2021
Field of Study: Public Relations with a Minor in Construction Management & Real Estate Property Development
District: Northern California
Fun/Random Fact: Was formally a competitive snow ski racer and is currently a competitive water skier
You've traveled quite the distance for your internship. What has that experience been like for you?
Accepting an internship offer in an unfamiliar city with unfamiliar faces can be difficult but I have honestly found the entire experience to be refreshing and super fun! Hensel Phelps went above and beyond to find our group of interns the best housing for this summer. Putting all the interns together in one complex has allowed for us to establish friendships outside of work too. We have intern movie nights, group chats for carpooling and a friend group away from home. Hensel Phelps has taken care of everything from A to Z and I could not be more grateful for that. It's not just an internship, it is really a program for those looking to learn the most they can in one summer while having a ton of fun with other students from around the country!
What made you want to go into your field of study?
I am and have always been a people person. I enjoy connecting with people and establishing relationships that are meaningful. Naturally, I majored in Public Relations, but it wasn't until I met my best friend, Reagan, at Cal Poly that I was introduced to Construction Management as a career path. She encouraged me to take a class or two. Before I knew it, I was enrolling into the minor and accepting a position on the board of the Women in Construction club. I have found that the construction industry allows me to utilize the people skills I have developed while challenging me in an area of work I am still learning to navigate. I am so happy to have ended up on this path and I have my best friend to thank for that.
What is the number one thing you have learned during your internship that you weren't familiar with before?
I have only been in the field so far, and the Richards Boulevard Office Complex is a new project, so I have mainly been working with the total station and builders level. After a short amount of time, I already feel confident in my ability to use them. The field engineers on my project have taken so much time to familiarize me with both tools and it is incredibly encouraging to know they now trust me to stake out a point or take an elevation and are fully confident in me to have done it correctly. To have helped with the layout on a project of this size is an incredible feeling.
How is Hensel Phelps unique from other companies?
This is my first internship with Hensel Phelps but in the short time I have worked for them, it is no question Hensel Phelps is special. They go above and beyond to support their employees both at work and at home and genuinely make sure everyone is taken care of. I can honestly say I look forward to seeing those I work with every day. Additionally, Hensel Phelps truly cares about the work they perform whether it be big or small and the details do not go unnoticed. A congratulations is always given to those who deserve it.
Of the five Hensel Phelps Core Values (Ownership, Integrity, Builder, Diversity and Community) – which means the most to you?
Out of the five Hensel Phelps Core Values, Community means the most to me. As an intern, I am living away from my family and friends but have found that the community of interns and co-workers have truly become a home away from home. The supportive crew I am surrounded by here in Sacramento is the reason I look forward to working and learning each day. It really makes for an environment that I feel comfortable asking the questions I must to reach my full potential.
What was the best advice you've received during your internship?
The best advice I received throughout my time with Hensel Phelps so far is to have a good attitude. Being enthusiastic about the work I am learning to perform and keeping a positive outlook is crucial for my success as an intern. In one of the staff meetings, I recall one of the higher ups stating not every day will be great, but it is the bad days that help us to grow. Doing so with a good attitude will not go unnoticed.
To learn more about the Hensel Phelps Intern Program and other career paths that Hensel Phelps has to offer, visit  https://www.henselphelps.com/careers/