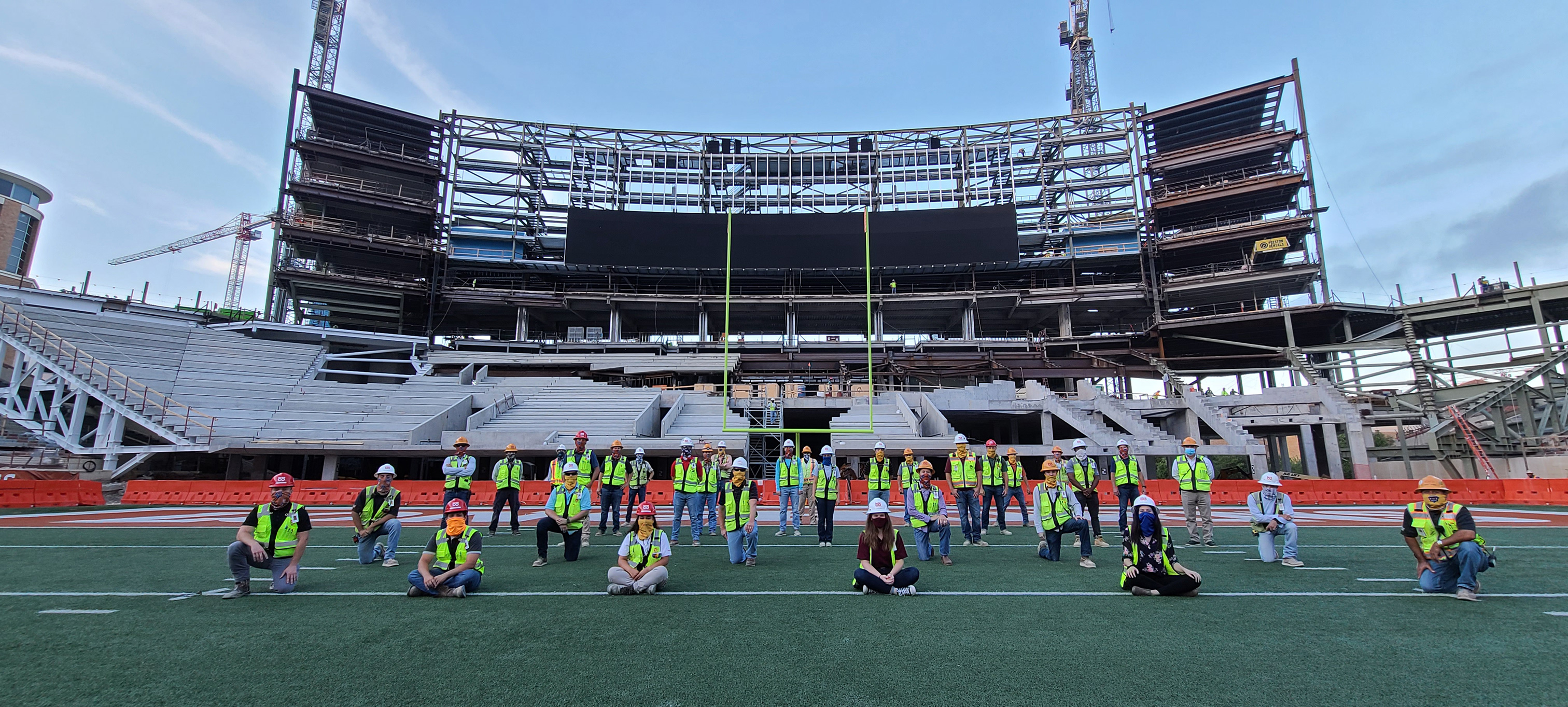 Hensel Phelps is one of the nation's largest Construction Managers with extensive experience in renovation and expansion projects within operational facilities. The vast majority of these projects require measures for working in and around congested sites where coordination, communication and protecting surrounding structures and people are paramount to the project's success. However, constructing suites and amenities in a college football stadium during peak football season is a whole other ballgame.
While constructing the University of Texas at Austin Darrell K Royal – Texas Memorial Stadium South End Zone Addition, many critical no/limited work days must be coordinated in advance with stakeholders within the university's athletics department throughout the season. For example, when the football team is on the field during practices, the Hensel Phelps team works with the athletic department to schedule noisy activities either before or after practice or even the following day or week, depending on the football program's needs.
All utility interruptions are coordinated around the football schedule and any other critical activities occurring within the stadium. Fire alarm and fire protection testing, a particularly noisy activity, is done exclusively at night. Hensel Phelps schedules "good neighbor" meetings with tenants in other athletic departments such as Recreational Sports and Kinesiology. The project team includes department representatives in the schedule discussion and coordination planning section of owner's meetings in order to incorporate any and all stakeholders' activities which may require schedule adjustments to avoid disruptions and surprises.
Each Friday before a home game, Hensel Phelps leads a game day pre-inspection with all pertinent parties to ensure home game activities are not impacted as a result of adjacent construction. Additionally, Hensel Phelps provides a "game day team" on-site for any support necessary related to the construction zone. Examples of their duties include performing public hazard audits to ensure the safety of fans, evaluations of traffic flow, installing signage to assist in wayfinding as well as life safety evaluations in and around the construction site.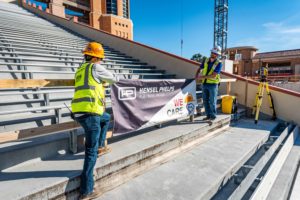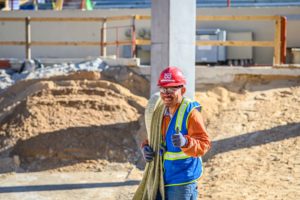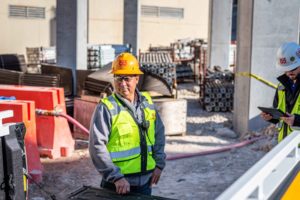 Pre-Game Day and Game Day Preparations
During the 2020 football season, the University of Texas served as host to five home games in the midst of the construction of the stadium's south end zone addition. Hensel Phelps developed plans to control the 15,000 football fans that would pour into the construction site each game day. These plans included fencing necessary to direct the flow of foot traffic, guardrail installation, temporary concrete and asphalt walkways, among other precautions. Hensel Phelps and the UT Athletics Department provided special signage, monitors and information kiosks at each pathway two hours prior to kick-off for each game through one hour after each game had ended.
Leading up to game day, all construction work would complete by noon on Fridays. Hensel Phelps, the UT Athletics Department, owner, Fire Marshall and/or AHJ, police and stadium operations teams would meet in the field and walk all each area under construction reviewing the life safety requirements, making a list of any outstanding activities necessary to be complete so that the site would be ready for a full game day experience.
Post game day, the project team returns to the site to remove the temporary protections installed in order to continue work. Each home game week was met with a new challenge due to the ongoing construction progress within the structure. As areas were added, life safety controls were constantly modified to accommodate the influx of fans and all game day activities. The team's efforts resulted in a safe environment for everyone to enjoy the game which was met with the satisfaction of the owner and UT Athletics Department.
To learn more about Hensel Phelps' Southwest District, including their work with the University of Texas, visit https://www.henselphelps.com/contact-us/southwest/