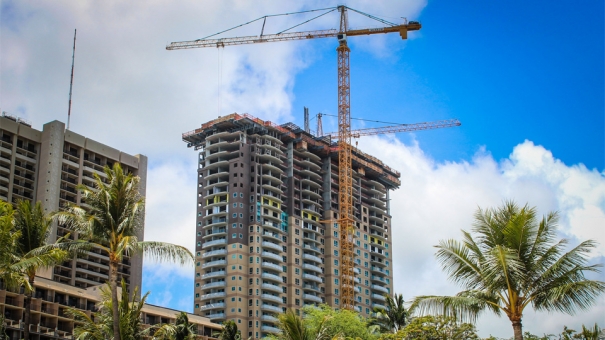 On June 23, 2016, Hensel Phelps' Hilton Grand Islander project commemorated the topping out of the 38-story concrete structure. Representatives from Hilton Worldwide, Blackstone Investment Group, and the project design team joined with more than 500 members of the construction team to celebrate the occasion with a barbecue.
Sitting only a block off the beach, the 375-foot structure is a defining part of the iconic Waikiki skyline. After completing the podium in the fall, the Hensel Phelps team worked diligently to place a structural floor every week. At 626,000 SF and with a total of 30,000 yards of concrete placed, the Hilton Grand Islander is the largest self-performed project ever completed in the Pacific District. The project has amassed over one million man-hours since August with zero lost-time accidents. While the majority of the 115-member self-work crew has been with Hensel Phelps less than a year, they have proven to be a valuable addition to the company.
In addition to the concrete, Hensel Phelps is also self-performing the installation of the architectural precast skin, which is slated to finish at the end of July.