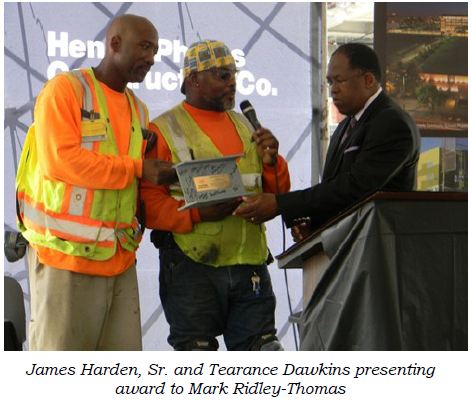 The Hensel Phelps Martin Luther King, Jr. project team hosted a barbeque, awards ceremony, and site tour for approximately 400 workers, as well as the Los Angeles County supervisor and other officials from the Department of Public Works (DWP).
Termed the "Anti-Topping Out Ceremony," the event was designed to be a personal opportunity for 2nd District Supervisor, Mark Ridley-Thomas, and the craftspeople to interact. Mr. Thomas and his staff have been very instrumental in procuring approximately $400M in county, state, and federal funds to rebuild the Martin Luther King Jr. Medical Center located in the Watts area of Los Angeles County, California.
Supervisor Thomas is a passionate advocate for local worker and business participation, so it was only fitting that two Hensel Phelps local craft workers James Harden Sr. and Tearance Dawkins presented an award to Mr. Ridley-Thomas. He was very pleased to learn that two-thirds of all craft hours worked on the project have been performed by local workers and over 50% of all net dollars paid have been to Los Angeles County small business enterprise firms.