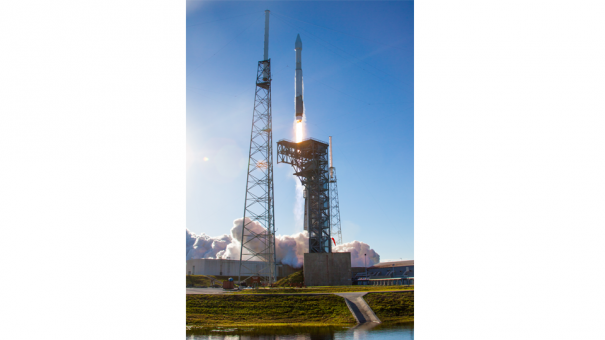 The Design-Build Institute of America (DBIA) Honors the Hensel Phelps Design-Build Team for Work to Restore Crew Launch Capabilities to the United States
Hensel Phelps Design-Build team has won a DBIA National Award of Merit in the Industrial/Process/Research Facilities category from the Design-Build Institute of America for the work it performed at Space Launch Complex 41, which will be the launch site for Boeing's CST-100 Starliner spacecraft atop United Launch Alliance's Atlas V rocket. Because of this honor, the project is automatically a nominee for the National Award of Excellence in the Industrial/Process/Research Facilities category, the highest honor within each category. The Hensel Phelps Design-Build Team will be honored at the awards program taking place at the Design-Build Conference & Expo on November 9th in Philadelphia.
As an added honor, this project is also one of three finalists for the Design Excellence – Engineering Award!
The Hensel Phelps Design-Build Team was given a unique opportunity to be a part of NASA's Commercial Crew Program, which will return human spaceflight launch capabilities to the United States. ULA's powerful and reliable Atlas V will begin launching Boeing's Starliner from Florida's Space Coast to the International Space Station (ISS) next year. Commercial transportation to and from the ISS will provide additional research and discovery opportunities on the orbiting laboratory. The station is critical for NASA's continued research for understanding and overcoming the challenges of long-duration space exploration.  It is particularly rewarding for the Hensel Phelps Design-Build Team to have been entrusted with such a significant role in restoring crew launches to American soil.
The project for United Launch Alliance provided the retrofitting of Space Launch Complex 41 to accommodate Boeing's Starliner. The project includes a new Crew Access Tower (CAT), a Crew Access Arm (CAA) and modifications to the platforms inside the existing Vertical Integration Facility (VIF) adjacent to the launch pad. The CAT supports the CAA, which is moveable by a hydraulic system and will allow astronauts easy access to the Starliner spacecraft. The platforms inside the VIF, where the rockets are stacked, were renovated to fit the outer mold of the new capsule.
Today, the CAT stands 250 feet tall and features a 60-foot hydraulic egress arm that is capable of a 120.8 degree swing radius to bring astronauts within 10 inches of the outer platform on the capsule. This project stands as a testament to how successfully implementing the design-build methodology and principals can be.
ULA, Hensel Phelps, Nishkian Dean, Fives Lund, Nelson Engineering, RS&H, Oregon Iron Works/Vigor Works, Western Integrated Technologies, Saur, Steel LLC and Cool Springs Consulting all played a part in this landmark project.