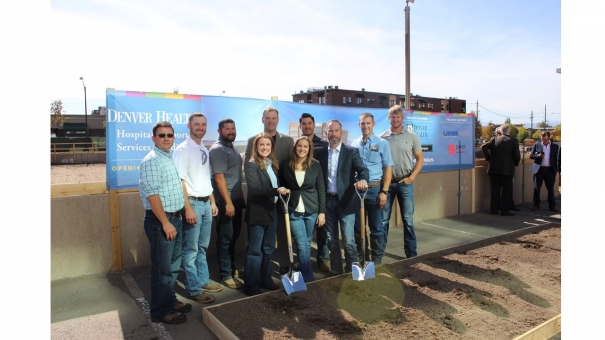 On Thursday, October 15, ceremonial shovels hit the dirt at the new Denver Health Support Services Building project site in Denver, Colorado. Denver Health was established in 1860 and has been caring for the people of Denver and the Rocky Mountain Region ever since. The groundbreaking was attended by notable figures such as Denver Mayor Michael B. Hancock and several city councilmen.
The Support Services Building, located in the heart of Denver, is the first stepping stone to a much larger goal for Denver Health. The new building will allow Denver Health to vacate their current administration building and begin planning for construction of a new Ambulatory Care Center to be raised at that location.
Hensel Phelps was awarded the Support Services Building design-build contract in the fall of 2014. After several design revisions (including addition of an entire level), construction of the nine-story precast structure began with the demolition of three existing structures on August 10, 2015. The project will consist of four levels of below- and above-grade parking, first floor retail, and five levels of administration space for Denver Health.