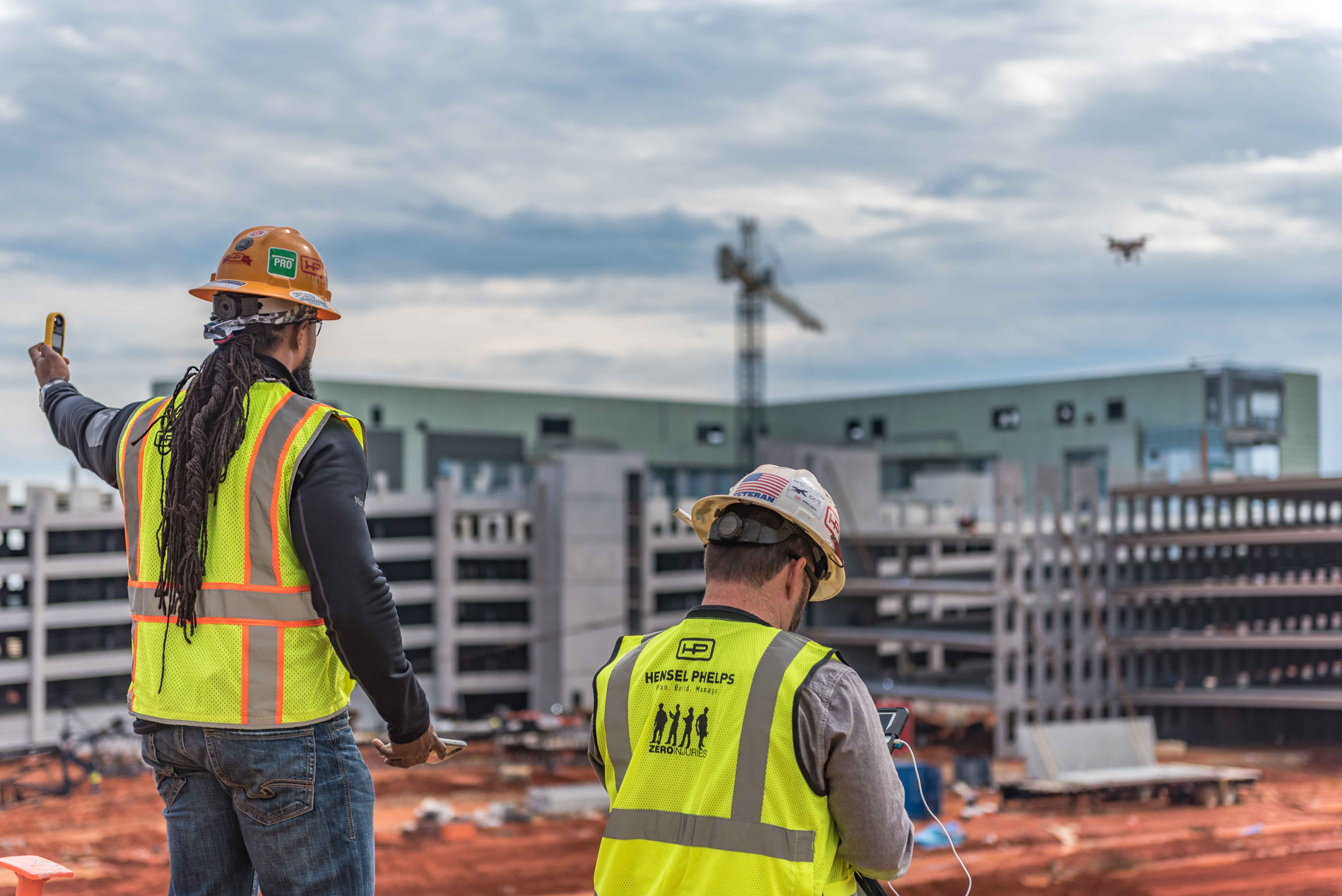 Greeley, CO, June 6, 2019 – The Federal Aviation Administration (FAA) has issued Hensel Phelps a Certificate of Waiver, allowing certified operators to safely fly parachute-equipped sUAS (small Unmanned Aircraft Systems or drones) over people, including populated construction sites. This precedent setting waiver is the first time a waiver has been granted using a parachute system. At this time, Hensel Phelps is the first and only company in the United States to receive this approval, having proved they sufficiently met and exceeded the standards to conduct a safe sUAS operation.
Hensel Phelps has witnessed first-hand the benefits of using drone technology on the job site, utilizing sUAS to manage and audit project schedule, communicate site logistics, improve inspections and even enhance team safety.
The Code of Federal Regulations 14, Section 107.39 restricts any sUAS operations over human beings, which include the large majority of Hensel Phelps job sites. By utilizing ParaZero's SafeAir Parachute System which is compliant with ASTM F3322-18, Standard Specification for sUAS Parachutes, Hensel Phelps was able to pioneer a solution that adequately addressed the safety concerns of the FAA and set a precedent for other operators interested in similar operations.
The FAA stated in a press release that the ParaZero parachute used together with the Phantom 4 is a scalable one and is now available to other applicants. The FAA will require each applicant to undergo the same approval process as Hensel Phelps, providing testing, documentation, and statement of compliance listed in ASTM3322-18 in their application.
"Safety is a core value at Hensel Phelps," said Richard Lopez, Hensel Phelps VDC Manager. "Utilizing sUAS equipped with ParaZero's SafeAir Systems on our job sites allows Hensel Phelps to operate more efficiently and accurately and we are committed to leveraging this technology as safely as possible."
As an early adopter of drone technology, having launched their drone program in 2011, Hensel Phelps has worked proactively to develop best-practices and safety protocols for the AEC industry. As a national contractor with one of the best safety records in the industry, Hensel Phelps wanted to put the same level of prioritization into their drone program, ensuring that all nine of their districts were operating drones as efficiently and safely as possible, safeguarding both their job site employees as well as pedestrians and those impacted by the usage of sUAS.
Hensel Phelps' commitment to drone safety and pre-established trainings and procedures are what drew the FAA to collaborate with Hensel Phelps in the first place. Hensel Phelps has been collaborating with the FAA, working together to ensure that all testing and data collected met an acceptable standard to introduce publicly to the industry.
"Hensel Phelps has been built on four company pillars: People, Process, Partnership and Technology. Drone technology is only in its infancy, and it's exciting to think about future possibilities and what's to come," said Lopez. "We look forward to further training and developing our team and the visionaries within our company, as well as working with our clients and partners to take sUAS technology to the next level."
For more information on Hensel Phelps' growing Technology Programs, visit: https://www.henselphelps.com/the-hensel-phelps-way/technology/