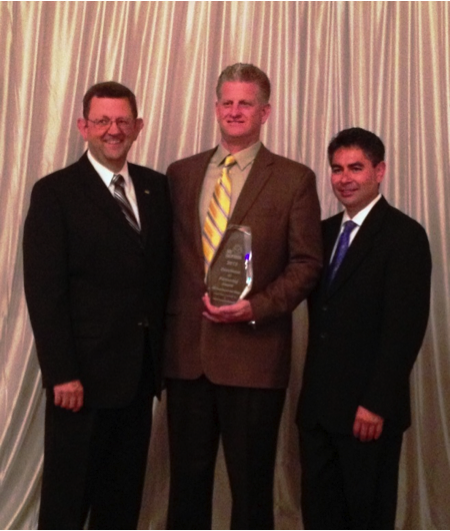 Hensel Phelps was honored to receive the 2013 Excellence in Partnering Award given by the Associated General Contractors of California on the New United States Courthouse project in San Diego.  This prestigious award was given in the category ofProjects Over $50 million and each of the finalist had to demonstrate their stand-out abilities in areas such as: formal partnerships, striving to improve communication on the project with all partners, utilizing team building activities, effectively evaluating and achieving common goals, honoring stakeholders, and effective resolution of conflict.
From the beginning Partnering played a pivotal role in adhering to the overall budget, schedule, quality, and safety of the project.  At nearly 500,000 square feet and 18 stories high, this LEED Gold building was completed one month ahead of schedule, under budget, and with a quality and safety performances that has set new highs for our industry.  This project is the first major courthouse for the Federal government to be completed ahead of schedule in recent decades.
On hand at AGC's Awards dinner in San Francisco to receive the Award were Hensel Phelps Project Manager Tom Diersbock, GSA Project Manager Mario Ramirez, and Jacobs Owner Representative Charlie Atkinson.  Hensel Phelps appreciates the recognition given by our peers in the industry as the Excellence in Partner Award not only show cases the premier projects in California, but the people and leaders behind them.