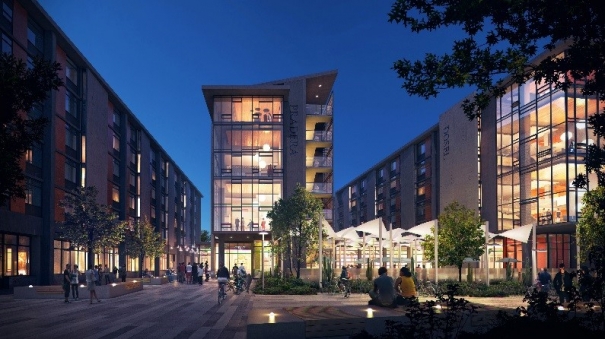 Hensel Phelps, in partnership with architect Mithun is proud to announce our selection by the University of California, Irvine (UCI) to design and construct the Mesa Court Expansion project (student housing). The award was secured through an extremely competitive best value design-build competition over the past three months. The $92 million Mesa Court Expansion project will encourage both interaction amongst the students at UCI and provide a welcoming living-learning environment for students, faculty, and staff. The entire Hensel Phelps team is excited to be back on the UCI campus. Bill LaPatra, Partner and Project Director for Mithun, added "Mithun is thrilled to be back on the UCI campus in partnership with Hensel Phelps to create this new student life complex at Mesa Court that will create a transformational experience for new freshman coming to UCI every year."
With demolition slated to begin in July and new construction to begin in October, the entire Hensel Phelps team is working in a manner that encourages innovative thought through collaboration and the use of technology. The new Mesa Court Expansion project is anticipated to achieve LEED Platinum and will consist of three (3) new concrete structures each standing 5 stories plus a podium. These new Residence Halls total 780 beds and 250,000 gross square feet (GSF) and will include ancillary space such as study rooms, computer labs, great room, fitness center, recreational room, student office space, kitchenettes, and laundry facilities. A cutting edge dining facility has also been incorporated into the design providing a "fresh food concept" with multiple food venues, food preparation classes, and a coffee house with extended operation hours. The expansive dining area will have the capacity to service all the students housed in the area. This new state-of-the-art facility will service 2,500 students and it will become a campus landmark and hub for the UCI community.
Hensel Phelps Vice President Cuyler McGinley announced "today we renew our partnership with UCI and Mithun to build a state-of-the-art student housing project that will set new standards for student life on campus. We appreciate the opportunity and look forward to many more with UCI in the coming years." For 30 years in Southern California, Hensel Phelps has been building landmark buildings that inspire performance for our clients and the Mesa Court Expansion project is another great example of innovation through collaboration.
For additional infomration please contact:  Andrew Millar, Project Development Manager – 949.852.0111