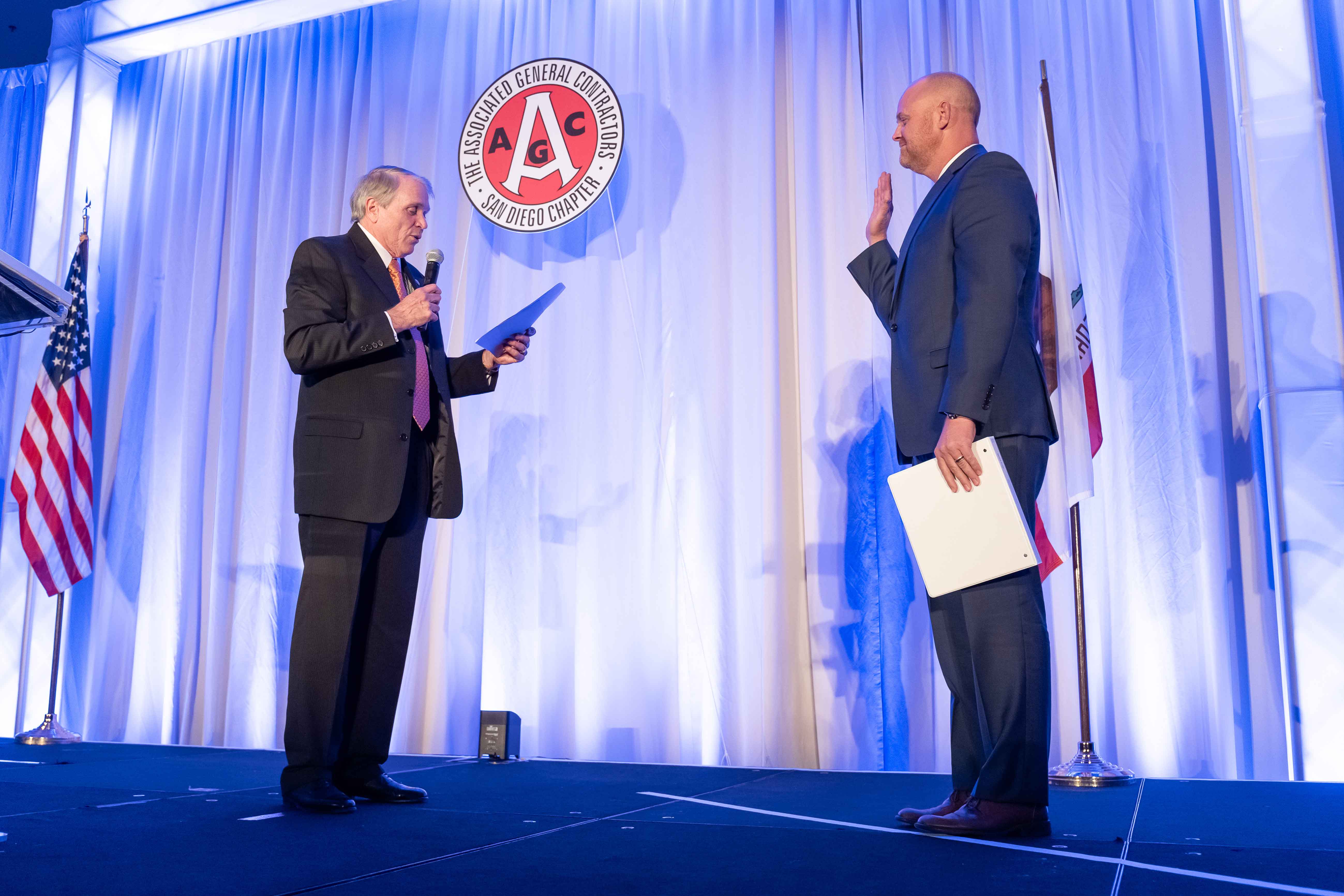 On Monday, January 21, Stephen Friar, Hensel Phelps Regional Director of Planning, was sworn in as the 92nd President of the Associated General Contractors of America (AGC), San Diego Chapter. With over 450 members in attendance, Steve took the gavel from outgoing President, Jeff Harper of Harper Construction. Flood and Peterson, Hensel Phelps insurance partner, provided opening remarks and title sponsorship of the event.
Continuing with AGC tradition, the incoming president personally selects the individual that will conduct the swearing-in ceremony. Steve was happy to select his mentor and retired Hensel Phelps colleague, Executive Vice President Wayne Lindholm. Wayne hired Steve in 2006 and the two have remained friends for over 20 years.
As the new Chapter President, Steve spoke about his experiences, path to presidency and his vision for 2019. He encouraged the members of his chapter to engage in current issues, protect the construction community and hold contractors accountable to the highest standards. Steve, a San Diego native, has served both the San Diego community and construction industry for over two decades.
"We have the ability to make positive impacts within our industry, our people, and our overall community every day and it's through partnerships with associations like AGC where we can make the biggest difference," said Steve Friar after accepting the gavel.
The Associated General Contractors of America is the nation's largest and oldest construction trade association, with 89 chapters and more than 26,000 active member firms in the construction industry. With over 1,100 members, AGC of San Diego is one of the most influential trade associations in San Diego. AGC is dedicated to improving the construction industry by employing the finest skilled, promoting the latest in technology, and advocating building the best quality projects for public and private owners.