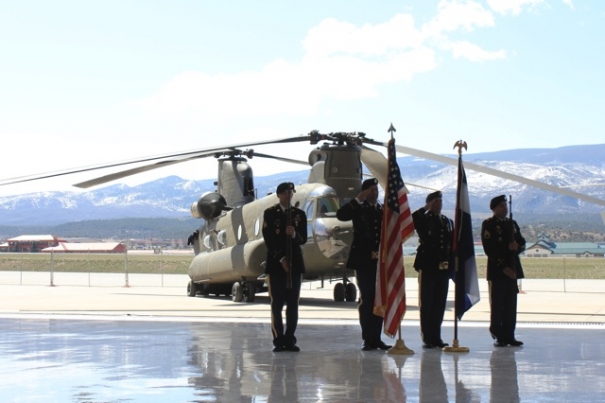 Ribbon-cutting Ceremony for Hensel Phelps' New High Altitude Aviation Training Site (HAATS) Project.
Hensel Phelps celebrated the dedication and ribbon-cutting of the new High Altitude Aviation Training Site (HAATS) 101,600 square-foot facility. The building has been specifically designed to accommodate the HAATS mission.
HAATS trains military rotary-wing pilots from around the world in power management and teaches pilots the skills necessary to operate their aircraft routinely and safely at maximum gross weights in any environment — especially at high altitude. This mission provides life-saving combat skills to American and allied pilots serving in mountainous Afghanistan and other challenging environments worldwide.
Construction on the new $39 million building began in August 2011.  The facilities expansive maintenance bay can house up to four Chinooks or eight Blackhawks as well as student barracks and training rooms and is five times larger than the existing HAATS building.
For further information relating to the project, please see the article from the Vail Daily Newspaper.