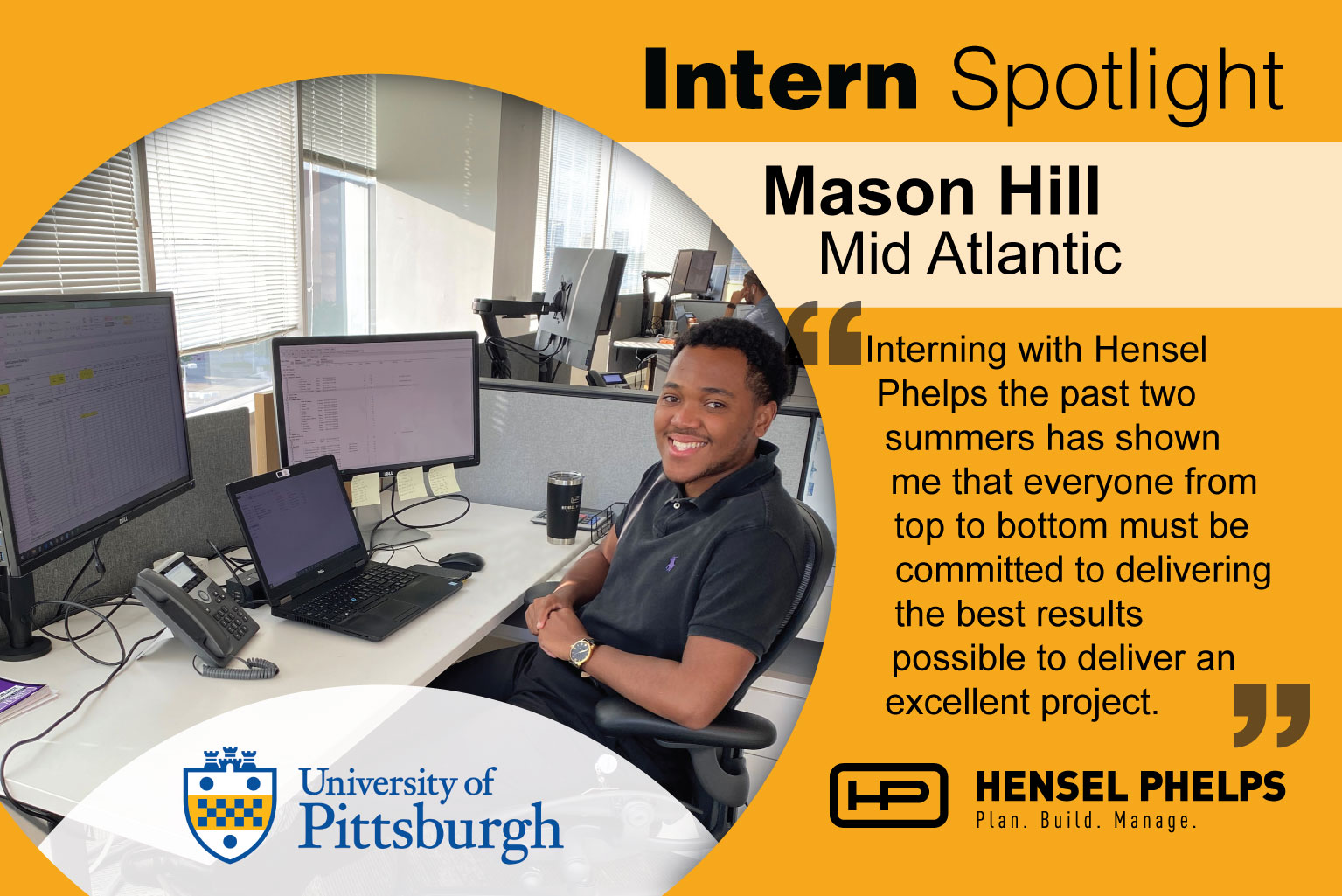 Mason Hill: "With many opportunities to meet current employees along with a great culture and work environment that was unlike my other internships, I was excited to get the opportunity to work with this company again."
This summer, Mason Hill joined Hensel Phelps' Estimating team in our Mid Atlantic District Office to learn more about the intricacies of our estimating department. Mason is a second year intern for Hensel Phelps and was previously on our Martin Building Renovation and Expansion project in Washington, D.C.. He is currently studying Civil Engineering at the University of Pittsburgh, and will start his Senior year this fall.
Hensel Phelps Q&A with Mason Hill:
Name: Mason Hill
School/Graduation Year: University of Pittsburgh 2021
Field of Study: Civil Engineering
Hometown: Fort Washington, MD
District: Mid Atlantic
Department: Estimating
Fun/Random Fact: Plays saxophone in spare time
What are the top skills you've developed during your internship?
A top skill that I have learned interning for Hensel Phelps is how to work with all the different parties involved in construction projects. Being an intern for Hensel Phelps, I have learned that there are many parties involved whether it is the owner, architect, trade partners, etc. A key skill needed to succeed as a general contractor is knowing how to work with everyone involved in building a project and making sure you deliver the best product you possibly can. Along with me learning many skills such as how to read plans and specifications and how to implement work in the field, I was also able to learn how to properly communicate with other parties. By seeing how other Hensel Phelps employees would communicate, I learned a vital lesson that speaking with respect and integrity to other parties is the best way to ensure that a job is done right.
What are you most intrigued about learning during your internship and why?
This summer I have been put into the estimating department and I am most intrigued about learning what processes Hensel Phelps implements to secure new work. This is my second internship with Hensel Phelps; last summer I was on a jobsite learning the ins and outs of being a field and office engineer. I was able to experience and learn so much about Hensel Phelps' role during a construction project, but I am intrigued to see what it is like to work with Hensel Phelps before construction even begins. To see how initial costs are put together and how trade partners are brought on board to different projects is very interesting to me and I am excited to learn about the estimating department. A lot of work must go into bidding on and winning jobs for the company and I am sure that an estimating view of the construction field will further prepare me for my career in the future.
How is Hensel Phelps unique from other companies?
There are many things that separate Hensel Phelps from other companies, and I believe the intern program is one of them. Hensel Phelps not only gives interns an amazing learning experience in the field of construction, but they're also dedicated to showing off the Hensel Phelps culture and making sure interns have a fun summer. The intern onboarding process and work program set up for the summer really made sure that I would end my summer with a wide variety of knowledge about what it is like to work as a general contractor. The work plan and checklist of activities on the jobsite would separate Hensel Phelps enough, but the intern events and chances to meet current employees really show off why it is great to work for this company.
If this is your second summer with Hensel Phelps: What was it about Hensel Phelps that made you want to continue interning here?
My experience last summer interning with Hensel Phelps was full of interesting work and learning opportunities. It was definitely hard work throughout the summer, but it was worth the knowledge and skills that I gained along the way. I also wanted to continue interning here because Hensel Phelps is clearly dedicated to having a fun intern program that shows off the company and area. Going to sporting events or having intern events around the area allowed me to meet other interns and Hensel Phelps employees. With many opportunities to meet current employees along with a great culture and work environment that was unlike my other internships, I was excited to get the opportunity to work with this company again. I wanted to come back to learn just as much as I did last summer about the construction industry and have the same fun experience doing it.
What does "Delivering EXCELLENCE in all we do." mean to you?
Delivering EXCELLENCE in all we do means doing everything possible to provide the best results Hensel Phelps can. To me, this does not just include the best results at the end of a project. Delivering EXCELLENCE in all that we do means Hensel Phelps ensures that a high standard is being met at every step along the way during a project. Interning with Hensel Phelps the past two summers has shown me that everyone from top to bottom must be committed to delivering the best results possible in order to deliver an excellent result.
Why do you love construction?
I love construction because it is so necessary in this world. I love the idea of knowing I had a hand in building something that will stand for decades to come and will help push society forward. If you drive through pretty much any city in America, you will likely see a construction site setup either restoring something historic or creating a new structure. Construction is vital to keep up with and support all the other advancements that are going on, which is why you will see construction in any place you visit. Government headquarters, schools and airports are just a few of these types of projects that Hensel Phelps has worked on and is why I love doing what I do.
To learn more about the Hensel Phelps Intern Program and other career paths that Hensel Phelps has to offer, visit  https://www.henselphelps.com/careers/