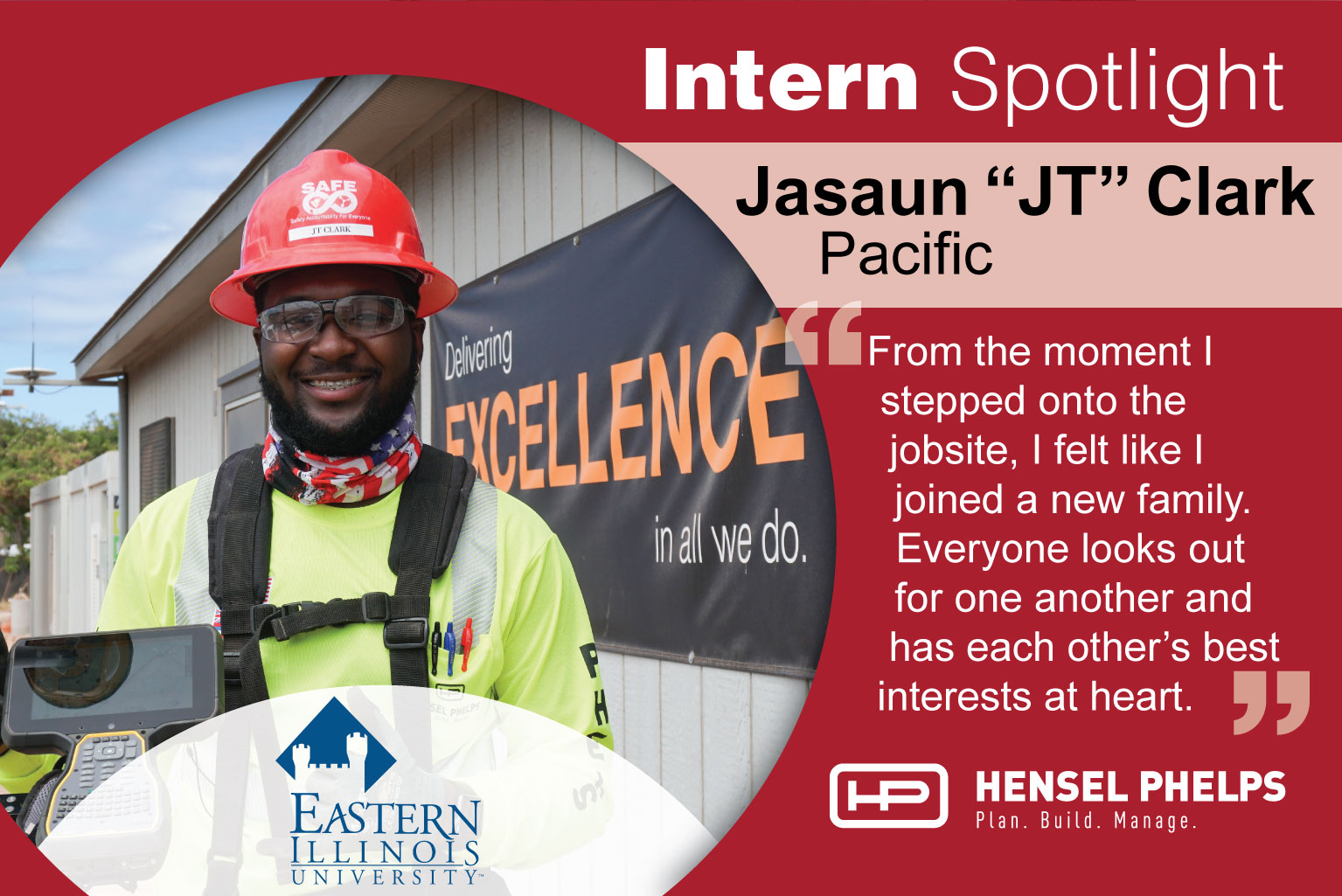 Jasaun "JT" Clark is a first-year intern with Hensel Phelps and joined the Kaiser Leeward Clinic Medical Office Building project in Kapolei, Hawaii. This summer, JT traveled from Chicago to Hawaii for the very first time. He is currently studying Construction Management and Business Management at Eastern Illinois University.
Hensel Phelps Q&A with Jasaun Clark:
Name: Jasaun "JT" Clark
School/Graduation Year: Eastern Illinois University / 2021
Field of Study: Major in Construction Management & Business Management, Minor in Engineering Technology & Entrepreneurship
Hometown: Chicago, IL
District: Pacific
Department: Kaiser Leeward Clinic Medical Office Building, Kapolei, HI
Fun/Random Fact: In high school, played six different sports: football, basketball, swimming, track & field, wrestling, and tennis.
Why do you love construction?
I love construction because it is exciting to see the end product. In construction, you will rarely, if ever, find two projects that are the same. Every day is a brand new start with brand new challenges. Finishing and admiring a completed project brings me joy. I can't wait to look at a structure and say, "I built that."
What made you want to go into your field of study?
When I was in the eighth grade, I joined the engineering club because it was an excuse to get out of class. At a meeting, we built a bridge using tape and toothpicks, then we saw which bridge could carry the most load. My bridge blew everyone away! From that point on, I did my research on what I wanted to study in college, which led me to construction. I knew that I wanted to be a leader and obtain a grasp from all aspects of a project, which is why I am double majoring in Construction Management and Business Management.
What are your goals for this internship and your career?
My two main goals are to build my brand and learn as much as possible. I would not be here if I did not want to work for Hensel Phelps. I chose to intern for Hensel Phelps because I want to be a permanent part of their team. Hopefully, I can show them why I am the best candidate for the position through my actions and eagerness to learn. I live life with the philosophy that every experience, whether good or bad, is a learning experience. I know that I do not know everything, and I probably never will. I will learn from all of my triumphs and mistakes because knowledge is power!
You've traveled quite the distance for your internship. What has that experience been like for you?
The experience has been mind-blowing! I can admit that I was a little concerned about coming to Hawaii for an entire summer. I am from Chicago and I have never even been to the West Coast, let alone Hawaii. As soon as I got off the plane, that fear was gone. Hawaii is one of the most gorgeous places I have visited and the people on the islands are some of the most welcoming people I have met. Hensel Phelps did a fantastic job of making me feel at home. From my first day on the jobsite, my team has been like a family to me.
Of the Five Hensel Phelps Core Values (Ownership, Integrity, Builder, Diversity and Community) which means the most to you?
The one core value that has impacted me most is Hensel Phelps' value of "community." Hensel Phelps invests in their people and not just in a financial sense. From the moment I stepped onto the jobsite, I felt like I joined a new family. Everyone looks out for one another and has each other's best interests at heart. It is rare to see this level of teamwork and I am sure it has something to do with Hensel Phelps being an employee-owned company.
What advice would you give to other students looking to work for Hensel Phelps?
Stand out. The employees and interns here at Hensel Phelps are some of the most unique people I have met. Everyone has their own personality and set of skills, which is why we can prosper as a team, but everyone shares a drive for excellence. Everyone here strives to be the best at what they do. My advice is to have a positive attitude and stand out.