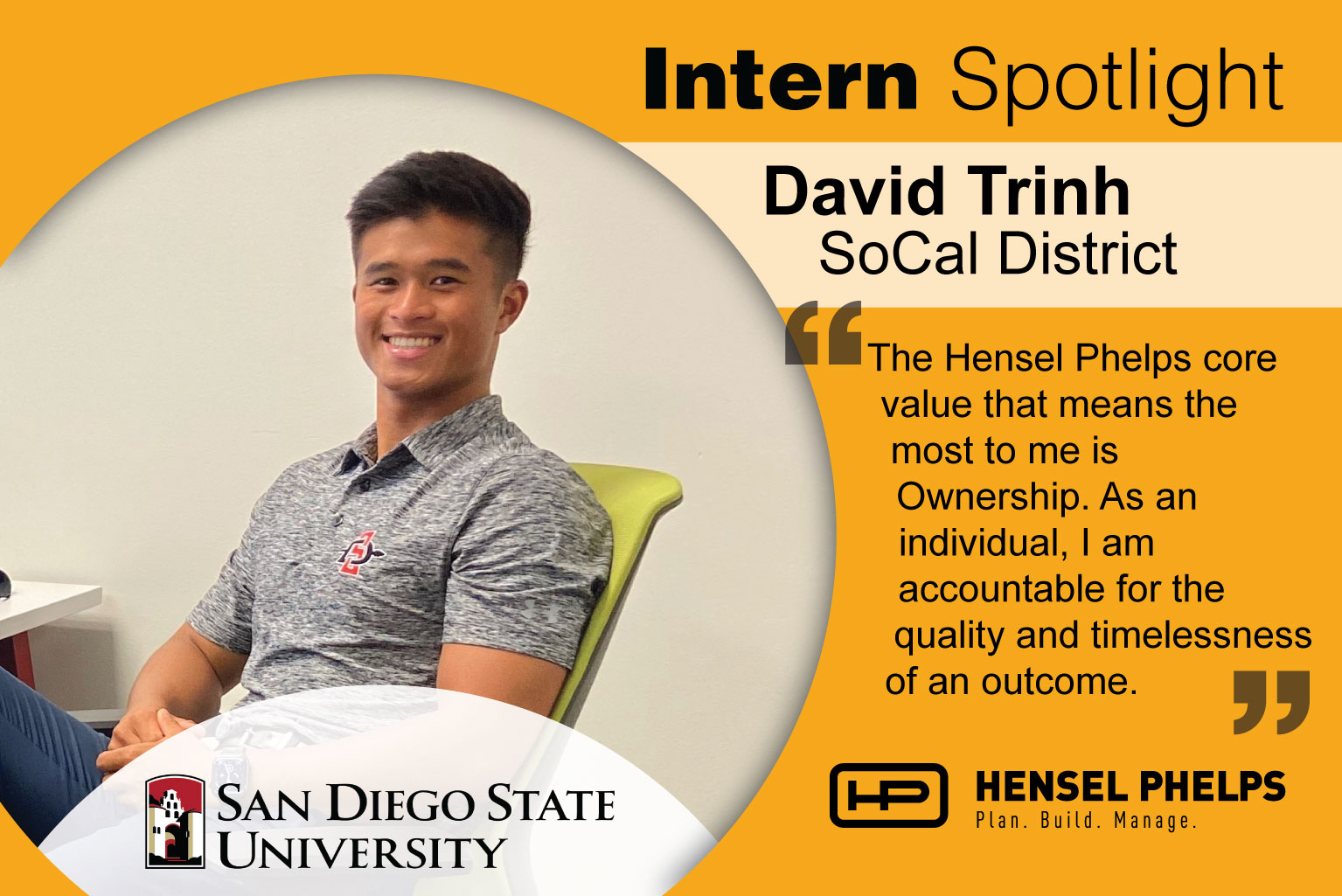 David Trinh joined Hensel Phelps' construction team in our Southern California District Office and is currently working on the UCI Verano 8 project in Irvine, CA. David is currently studying Mechanical Engineering at San Diego State University, graduating this upcoming year.
Hensel Phelps Q&A with David Trinh:
Name: David Trinh
School/Graduation Year: San Diego State University 2021
Field of Study: Mechanical Engineering
Hometown: San Diego, CA
District: Southern California
Project: UCI Verano 8
Fun/Random Fact: English is David's second language
What made you want to go into your field of study?
I wanted to go into mechanical engineering because I love looking at systems and knowing how they work. From the space shuttle to the air conditioning unit that cools your room, each system has an intricate design that spans the areas of human exploration to making you comfortable on a hot day. Not only do I learn to look at systems, but the technological advances that can be improved upon. Though this has little to do with construction, I love seeing all the mechanical aspects I've learned from school come together whole and in action in every building we construct.
What's your favorite thing about working for Hensel Phelps?
My favorite thing about working for Hensel Phelps are the individuals that work for the company. Construction is a hard and stressful field of work. However, the individuals that are part of the Hensel Phelps family make it all worthwhile. Everyone is helpful, outgoing and determined to finish the project in Hensel Phelps quality. I do not always have the answer to all the questions I have. I can always turn to someone for help, and they are more than willing to help or teach me. Not only are they helpful, but they know how to have fun when it's the right time, that's for sure!
How is Hensel Phelps unique from other companies?
Hensel Phelps is unique from other companies in their community. I have noticed in larger companies; community is difficult to keep when you are a small cog in a big machine. They do an amazing job at making the individuals in the company feel like family. Not only is it great internally, but externally in the sense of giving back into the community that surrounds it. Hensel Phelps largely focus on community service, and by doing community service together they become closer to each other as well. .
Hard work aside, what has been your favorite non-jobsite related activity this summer?
My favorite non-jobsite related activity this summer has been surfing. I have always lived by the ocean and it has been a huge part of my life. Since construction is difficult, being out on the water is a great mental break and stress reducer. Surfing has also taught me many self-qualities which I can always work on. Patience and perseverance. Patience in my daily and work life, and perseverance when it gets difficult.
Of the five Hensel Phelps Core Values (Ownership, Integrity, Builder, Diversity and Community) – which means the most to you?
The Hensel Phelps core value that means the most to me is Ownership. As an individual, I am accountable for the quality and timelessness of an outcome. It means I have an obligation to take the initiative on items that impact the project and hold myself accountable when I make mistakes. In other words, taking ownership at Hensel Phelps tells my team that I will step up to the plate when something goes wrong, hold myself responsible for my actions, and trust me to do the right thing.
What was the best advice you've received during your internship?
The best advice I have received during my internship is whatever your task is, whether it be hard or easy, work hard at it. Focus on your work in a deliberate and important way by putting your whole self into it. The result of this is that it benefits the work and the individuals around you. By putting your best foot forward in the work you do, you contribute to the progression of the project.
To learn more about the Hensel Phelps Intern Program and other career paths that Hensel Phelps has to offer, visit  https://www.henselphelps.com/careers/