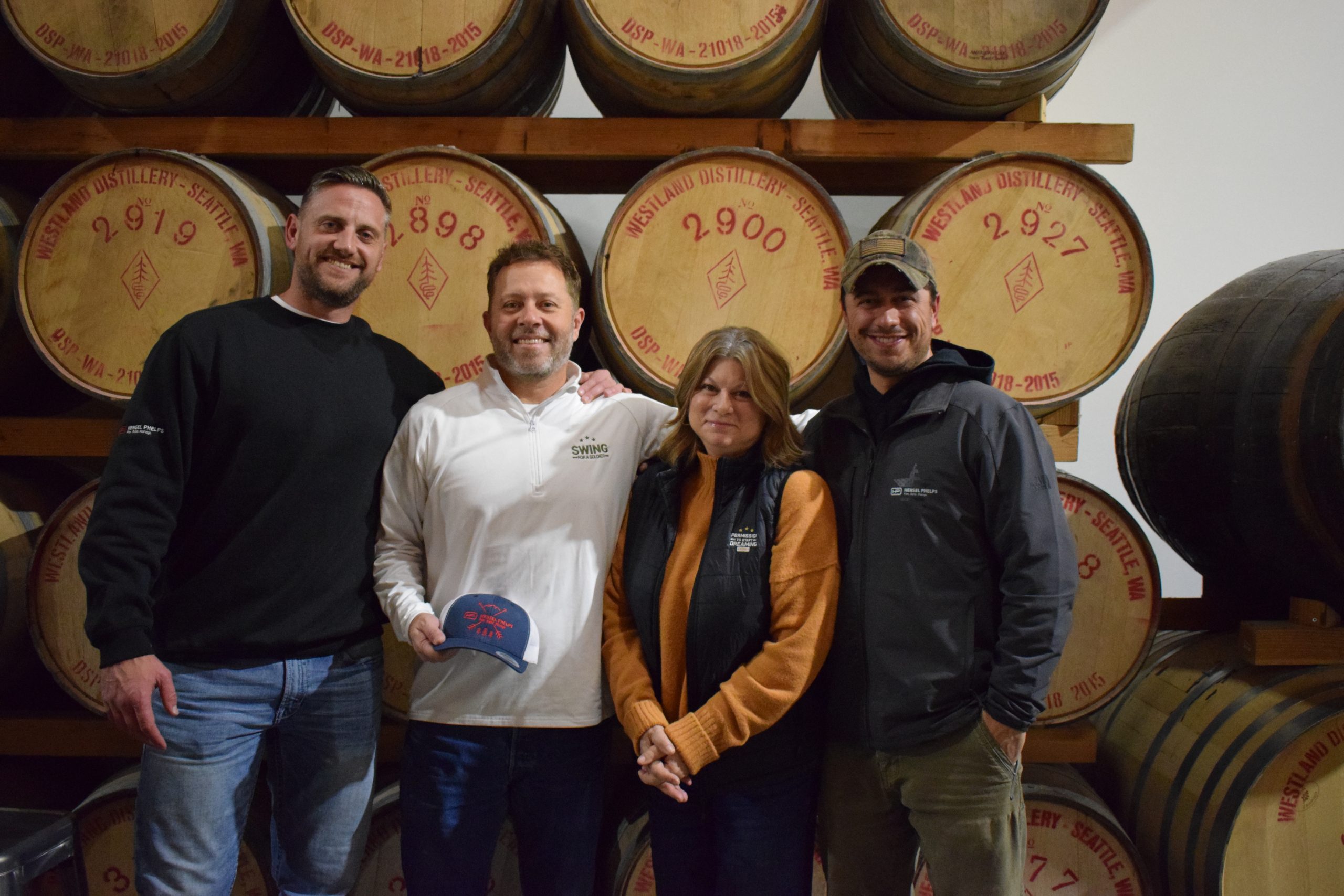 Each year, the Hensel Phelps Pacific Northwest Region hosts an annual Veterans Day Event to raise funds and awareness for organizations focused on the health and well-being of our nation's veterans. This year, the Pacific Northwest Region facilitated its 4th Annual Veterans Day Event with a fundraising drive and raffle to raise money for Permission to Start Dreaming. Permission to Start Dreaming is a non-profit organization dedicated to offering alternative therapies to help soldiers, first responders and their families readjust to life back home.
Veteran-owned BoneFrog Coffee also came back for their second Veterans Day Event with our team. BoneFrog Coffee, founded by retired Navy SEAL Tim Cruickshank, provided wine, signature coffee blends and stories of the journey and sacrifice of serving in our nation's armed forces.
Through employee and trade partner contributions, the Pacific Northwest Region raised more than $22,000 for Permission to Start Dreaming to further their mission of finding answers and programs for the long journey of healing from the invisible wounds of war and service-related injuries. The Permission to Start Dreaming team plans to use the funds raised to purchase property to host therapeutic retreats for local veterans and first responders focused on stress recovery.
About Permission to Start Dreaming
Permission to Start Dreaming founder Leslie Mayne lost her veteran son to suicide in 2009. Leslie took her unimaginable tragedy and turned it into inspiration by founding the Permission to Start Dreaming (PTSD) Foundation in Gig Harbor, Washington. The Foundation hosts events and programs that support Post Traumatic Growth—the idea that veterans and first responders can become stronger post-trauma after they correctly process it.
Learn more about Permission to Start Dreaming and its mission: https://ptsdfoundation.org/
Thank You to Our Industry Partners for Their Generous Donations:
Auburn Mechanical
C3M Power Systems
Degenkolb Engineers
GeoEngineers
Hayre McElroy & Associates, LLC
The Henson Company
Holmberg Mechanical
Integrated Design Engineers LLC
ISEC, Inc.
Kiewit
ML Fox Architectural Woodwork
MONTEREY BAY BOATWORKS CO. LP
Tunista Construction
Stacy and Witbeck/Kuney JV
VECA Electric & Technologies
Transbay Fire Protection
DeaMor
P2S