Hensel Phelps realizes that it is important to focus on the qualities and characteristics that have made the company successful since its founding in 1937. It is these same values that will ensure the success of Hensel Phelps for generations to come. By defining this messaging, our employees, partners and clients, as well as the communities in which we work, can understand the business decisions we make will ensure the success and safety of every project and employee.
Our more than 3,600 professionals come from many diverse backgrounds, but they are united by a common vision: Delivering EXCELLENCE in all we do. In addition to our vision, our Hensel Phelps team shares fundamental characteristics which are integral to our success—our core values: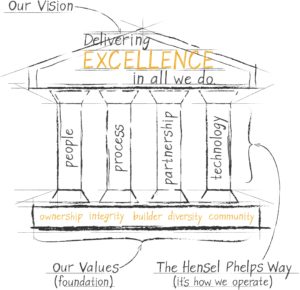 Ownership: We take responsibility. As an employee-owned company, we have a stake in everything we do.
Integrity: We work with integrity and are committed to honesty, building trust and doing the right thing. We provide a workplace free from hazards.
Builder: We are builders. We safely self-perform our work while building teams, people, partnerships and legacies.
Diversity: We embrace diversity. From our people, to our partners, to our projects—these differences strengthen our teams and our business.
Community: We support our community. We care for our employees, colleagues and neighbors like a family.
"When I think about Hensel Phelps' vision and core values, what strikes me is that these aren't new concepts. On the contrary, they form the foundation of our company. Our 83 year history has been built on these core values and our vision of Delivering EXCELLENCE in all we do. This legacy will serve as our blueprint as we focus on striving toward achieving our vision—today and tomorrow." Mike Choutka, President and CEO, Hensel Phelps.
We are proud to share our core values and vision with our clients, partners, employees and with the communities in which we work. These values and vision will continue to be the foundation of Hensel Phelps' success for generations to come.
Learn more about our commitment to Delivering EXCELLENCE in all we do. by visiting the Hensel Phelps Vision page.