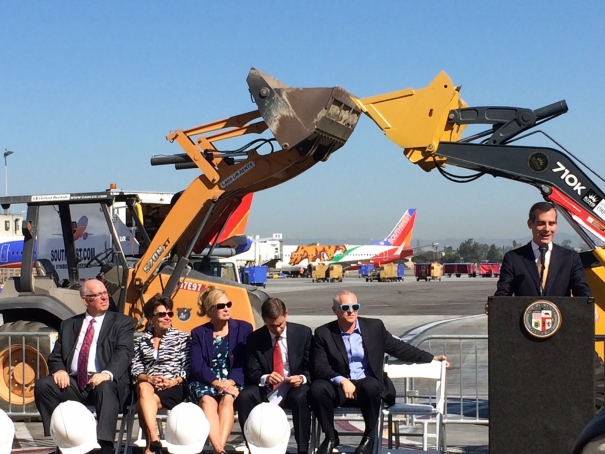 Hensel Phelps was proud to participate in the Groundbreaking Ceremony with the entire Project Team from Southwest Airlines.  The entire team was present as the Terminal 1 Modernization Program and dug their ceremonial shovels into the dirt to proudly kick off the $508 million program today.
Featured dignitaries included Los Angeles Mayor Eric Garcetti, City Councilman Mike Bonin, City Councilman Tom LaBonge, Los Angeles Airport Commission President Sean O. Burton, Los Angeles World Airports (LAWA) Executive Director Gina Marie Lindsey, and Southwest Airlines Vice President of Airport Affairs Bob Montgomery.
The entire team has been working on preconstruction and enabling work since the project award early last year, and everyone is excited to begin construction on the terminal.  The project will completely renovate and modernize all aspects of the terminal while maintaining ongoing operations.
Link to Rendered Project Views