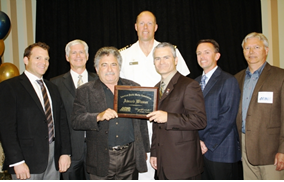 The San Diego Chapter of the American Public Works Association (APWA) designated the P742 Bachelor Enlisted Quarters, Naval Base Coronado project, now named after local Pearl Harbor survivor and national hero John Finn, as the "Project of the Year" in the $15 – $75 million cost range for 2013.  This Hensel Phelps led effort was a true partnership between NAVFAC Southwest and the entire Design-Build team.  John Finn Hall has now received a total of 6 awards and demonstrates the true success of our efforts from safety, quality, management and partnering.
The APWA award recognizes the true partnership that was developed by the public agency, NAVFAC SW, and the entire design build team led by Hensel Phelps.
The $64.7 million project, which was funded by the American Recovery and Reinvestment Act of 2009 (ARRA), included the construction of a seven-story, concrete Bachelor Enlisted Quarters (BEQ) with 264 living modules designed to house 1056 junior carrier based sailors.
The project also included a central utility plant, various outdoor recreational facilities, and general site development including parking and landscaped areas. The project has achieved a LEED Gold certification from the U.S. Green Building Council.
The building's residents enjoy views of the Pacific Ocean and San Diego Bay from the upper floors. The site is located on Coronado island across the bay from downtown San Diego on historic Naval Base Coronado. The base is currently home port to two Navy aircraft carriers: the USS Ronald Reagan and the USS Carl Vinson.