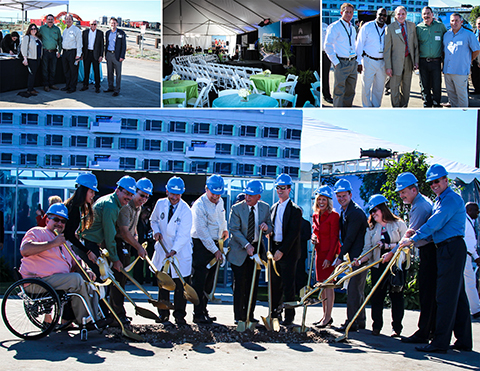 Hensel Phelps is proud to work for and with Kaiser Permanente, CO Architects and the entire design and construction team who are devoted to delivering the state of the art San Diego Central Hospital.
The ground breaking was made possible by a tremendous amount of gifted individuals throughout many organizations.  Kaiser Permanente has been steadfast in ensuring that this project is planned, designed, and constructed in a manner that demonstrates their commitment to deliver healthcare in a truly innovative fashion.
Project Details:
7 Story, 566,000 SF, 321 Bed Hospital
3 Story, 38,000 SF Energy Center
3 Story, 55,000 SF Hospital Support Building
1,479 Car Parking Structure
LEED Gold
It was great to see the tremendous amount of support by the City and County of San Diego.