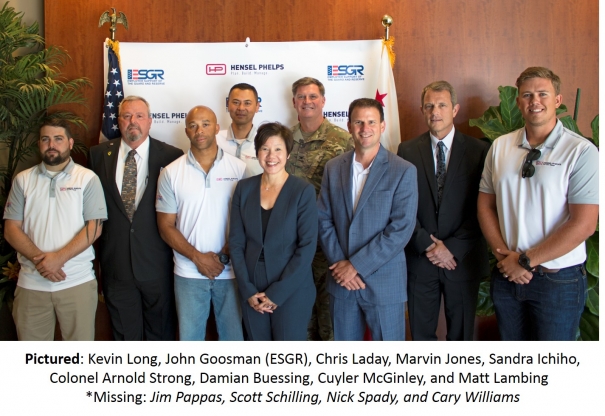 Hensel Phelps was presented with several awards by the Employer Support for the Guard and Reserve (ESGR) http://www.esgr.mil/ . The Patriot Award, Seven Seals Award, and the Above and Beyond Award were given to Hensel Phelps and key staff members for their continued support of our men and women serving in the National Guard and Reserves.
At a ceremony held at Hensel Phelps' Southern California District Office, representatives received the award in recognition by the U.S. government to employers for meritorious leadership and initiative in support of their employees who serve in the National Guard and Reserve.
Colonel Arnold Strong, Chief Communication Officer at 79th Sustainment Support Command, and Mr. John Goosman, Army Veteran and ESGR Volunteer, presented the following awards:
The Patriot Award: Nick Spady, Project Manager; Sandra Ichiho, Operations Manager; Scott Schilling, General Superintendent; Cuyler McGiley, Vice President Southern California; Jim Pappas, Vice President Northern California
Seven Seals Award: Damian Buessing, Director of Operations; Cary Williams, Project Superintendent
Above and Beyond Award: Hensel Phelps
Marvin Jones, an engineer with Hensel Phelps and a Sergeant First Class with the California Army National Guard, along with the Veterans Network (VNET) for Hensel Phelps, nominated both the individuals and the firm for these awards.
"It's an honor for Hensel Phelps and each of our individual award winners to be recognized by ESGR for supporting our Nation's military by hiring the men and women who serve for our country. We want to thank Marvin Jones and the members of VNET for their nomination, as well as ESGR for recognizing each of their efforts with these awards. We recognize the value that these men and women of our armed forces bring to the business world, and it is an honor and a privilege to provide them with exciting and rewarding career opportunities," said Hensel Phelps Regional Director of Planning, Stephen Friar.