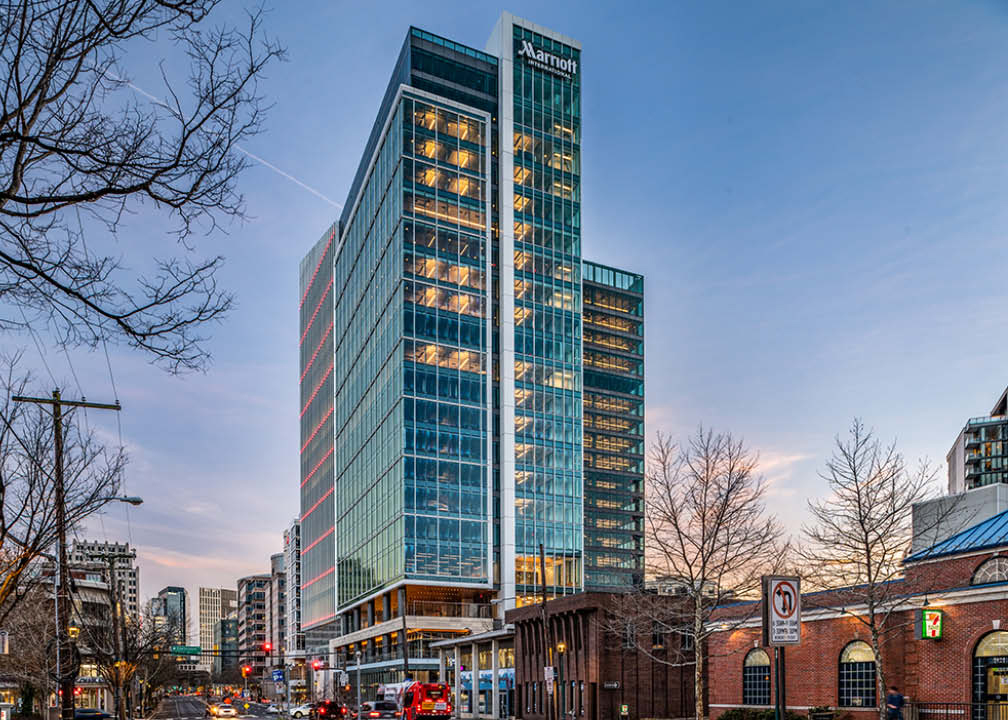 Following 41 months of construction, Hensel Phelps delivered the highly anticipated Marriott International Headquarters and Hotel to Boston Properties and The Bernstein Companies.
At 22 stories, the new Marriott International Headquarters towers over Bethesda, Maryland. As the new home for Marriott International, the 785,000 SF building will house over 3,500 Marriott employees. Developed by Boston Properties and designed to meet LEED Gold standards, the new workplace offers state-of-the-art technology and an abundance of modern amenities to its employees. These amenities include a childcare center, fitness center, rooftop space with outdoor seating, a public plaza with outdoor seating to host community concerts and a cafeteria. Hensel Phelps' scope of work contains the core and shell building, the 354,000 SF five-level parking garage, plaza and landscaping and coordination with the tenant contractor.
The building's sleek and stylish exterior façade designed by Gensler consists of unitized aluminum curtain wall, metal panel and terracotta. The curtain wall is the most prominent element of the façade with 3,686 units covering 249,000 SF of surface area. The curtain wall on the project has a unique geometry with projections and a combination of aluminum vertical fins with exterior lights, horizontal channels and glazed-in metal panels. The building features a grand entrance with a prominent 55-foot-tall point supported glass wall with vertical AESS vertical mullions right on Wisconsin Avenue. The insulated glass units consist of large glass sizes that are laminated with an 1 1/16-inch vision, 5/16-inch outer later and ½-inch air space providing a high thermal performance supporting the project's LEED Gold certification.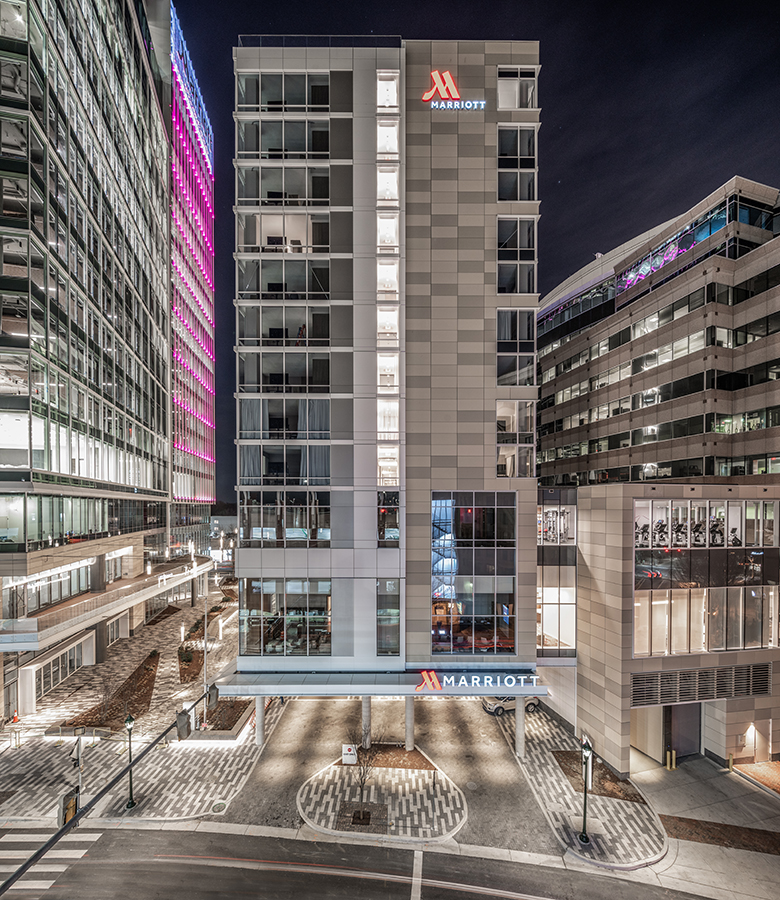 With substantial completion achieved, Hensel Phelps will continue coordinating with other contractors to fit-out tenant spaces leading to tenant occupancy in summer 2022.
Open March 1, 2022 as Marriott International's 8,000 property, the Marriott International Headquarters Hotel sits adjacent to the new Marriott International Headquarters. Developed by The Bernstein Companies, the 14-story hotel features 245 rooms and offers more than 8,000 SF of meeting and ballroom space, five elevators, a restaurant, fitness center and a rooftop dining terrace. The new hotel has more than 7,000 SF of event space, including a 2,808 SF ballroom for banquets of up to 160 people, six smaller meeting rooms and prefunction areas. Some property design details celebrate Marriott's history, including root beer-colored glass (a nod to the company's start as a root beer stand) and a laser-cut mural illustrating five of Marriott's original hotels. Among the new guest room features are walk-in showers that replace bathtubs, hard-surface floors and open closets to alleviate leaving clothes behind. Public spaces have a residential-style feel, with tech-enabled areas for work or socializing.
The hotel's two-story lobby, with candle-shaped lights suspended from the ceiling, rises 34-feet with a staircase designed to double as seating that leads to the ballroom and meeting spaces on the second floor. The view looks toward what Marriott calls the Greatroom, where there will be plenty of seating and common areas for guests. Beyond the Greatroom is the hotel's bar and Seventh State restaurant. The hotel's Hip Flask rooftop indoor-outdoor lounge offers sweeping views toward Silver Spring to the east and Reston to the west. In addition, the third floor features a Marriott Design Lab and Innovation Space. Complete with raised access flooring, the 10,000 SF lab provides Marriott a space to partner with technology and other companies to test out how certain technologies now only work within hotel rooms, but also how the construction of the rooms themselves can be streamlined.
A five-level, below grade parking garage with space for 811 cars connects to both the Hotel and Headquarters building. This below grade structure required an excavation of over 140,000 CY of soil and rock, adjacent to multiple structures that were to remain in place within feet of the excavation. Given the layout of the building and the close vicinity to other buildings, the excavation required a complex Support of Excavation (SOE) design. Due to the depth and complexity of the excavation and adjacent structures, unconventional SOE systems had to be implemented. Major elements of the SOE system included:
170 total soldier piles (70-feet-deep)
60,000 SF of lagging
458 tiebacks (drilled up to 80-feet-deep)
24 cross-lot braces (24-inch diameter x 80-feet long)
18 rakers (14-24" diameter
Hensel Phelps is excited to deliver these spaces to Marriott International and the City of Bethesda and to continue delivering excellence to Boston Properties and The Bernstein Companies.